Check out these exclusive Mario & Yoshi figurines and Super Mario Odyssey prints for Mario Day
Plus, all the other top Mario Day deals!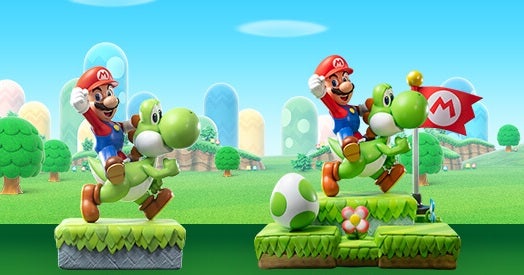 In an ingenious - if somewhat tenuous - bit of marketing spin, 10th March has been designated as Mario Day. Not because it has anything to do with his birth or the release of the jolly plumber's first game, but because if you write today's date as 'MAR10' and squint your eyes it looks a bit like his name. Just brilliant, isn't it?
In any case, it's a prime excuse for stores to launch some timely Mario-based offers and merchandise. Join us as we drop into a green pipe and see what treasures await below.
As you might expect, the Official UK Nintendo Store is leading the festivities with the launch of two new collector's items as part of their massive Mario Day promotion.
First up, is a Mario and Yoshi Figurine created by the folks at First 4 Figures. Over the years they've built a reputation for lovely, high-quality collectables at even higher prices. This latest offering is no different.
The Standard Edition - featuring a 19" resin statue of Mario atop his trusty dino-steed - will set you back a chunky £399.99. There's also a 21" Definitive Edition for an eye-watering £549.99 that comes with a large magnetized environmental base and a host of decorative extras such as a Mario Checkpoint flag, Yoshi Egg and three interchangeable flowers. You can see both versions in all their glory above.
If you're looking for another way to declare your Mario fandom that doesn't quite so aggressively break the bank, you might be more interested in the second new item: a set of exclusive Super Mario Odyssey art prints.
There are six prints in total, with each one representing a different character or object that Mario can assume control of in the Switch masterpiece by yeeting Cappy at it. Specifically, there are T-Rex, Goomba, Moe-Eye, Hammer Bro, Bullet Bill and Chain Chomp prints. A4 versions are available for £9.99, while the larger A3 prints are £14.99.
Additionally, at the Official UK Nintendo Store, if you buy any Mario game or any console bundle featuring a Mario game before the end of the day you'll also be entered into a competition to win a First 4 Figures Mario & Yoshi Definitive Edition figurine.
Meanwhile, other retailers such as Amazon and Game are running their own smaller Mario Day promotions today. There don't appear to be any particularly enticing offers here, but you should find a discounted Switch accessory or two.
---
After more Switch offers? There are loads more over at Jelly Deals. We've got our picks for the best Nintendo Switch SD card, as well as the best Nintendo Switch stylus and the best Nintendo Switch controller.
---
In fact, it's in the US where you'll find the better Mario Day deals. There's currently a week-long sale underway on a selection of Switch games featuring Mario starting at just $34.99. The games in question are Super Mario Maker 2, Super Mario Party, Mario & Sonic at the Olympic Games Tokyo 2020 and Yoshi's Crafted World. These US Mario Day offers are available at multiple retailers so you can choose where to shop based on your preferences.
On top of that, though, Best Buy has some wider discounts across games, merch, accessories and more than could be of interest. Games on sale here include Super Mario Odyssey, New Super Mario Bros. U and Mario Kart 8 Deluxe. Amazon has started to price much on some as well.
Elsewhere in the world of Nintendo deals, you can already get Pokemon Mystery Dungeon: Rescue Team DX on Switch for £37.99 at Amazon UK and Currys PC World. Meanwhile, Game is bundling the "sweet but clumsy" dungeon crawler with a Switch Lite for £224. Quite surprising for a game that's only been out less than a week!