Call of Duty: Warzone pro streams with five cameras in bid to refute cheating allegations
No muss, no fuss.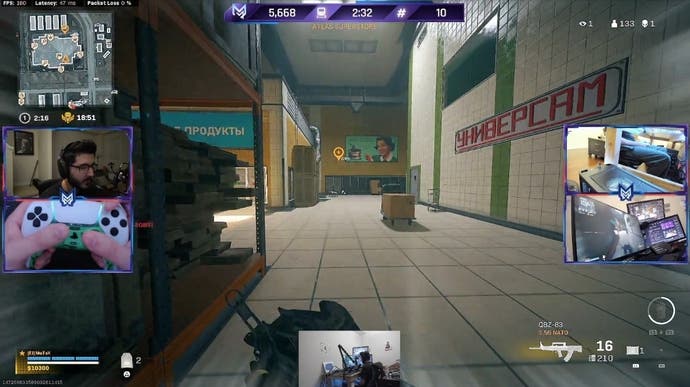 A Call of Duty: Warzone pro has streamed himself playing with five cameras in a bid to refute cheating allegations.
Charlie "MuTeX" Saouma, a Call of Duty streamer with 644,000 followers on Twitch and a background in professional Call of Duty esports, took to Twitch yesterday to play the battle royale with five camera feeds.
"No bs...," he tweeted, trailing the stream, "you might make fun of me for this.... but 5th cam was dead ass installed today.
"LMFAOOOOOOOOO.
"No cap its kinda lit you guys can see everything now."
MuTeX has faced a wave of cheating allegations this week sparked by YouTuber BadBoy Beaman, who published a video that called his gameplay into question.
MuTeX, who has the solo quads world record with 61 kills and has won thousands of dollars in Warzone tournaments, enjoys a significant following on Twitch as well as on social media. Any suggestion of cheating would call into question the validity of his play - and his participation in future events.
The allegations then hit a new level after MuTeX, who uses a PS5 DualSense controller on PC, admitted to having Cronus software on the computer he uses to play and stream Warzone. The use of controller conversion tech Cronus is considered cheating because it provides access to mods and scripts.
In a video message posted to Twitter, MuTeX said he used Cronus legitimately during Call of Duty: WW2 LAN tournaments (Cronus has a "Tournament Mode" setting that disables features that provide an unfair advantage), and "forgot" to delete it from his computer.
The cheating allegations continued, however, after BadBoy Beaman responded with another video disputing MuTeX's claim to have not used Cronus since the WW2 days.
MuTeX, who once played for Call of Duty esports team Dallas Empire before he was booted out for using offensive language on-stream in 2019, then took to Twitch armed with five cameras in a last-ditch bid to prove his innocence.
One camera is trained on MuTeX's DualSense, another on his face, one on his PC and legs, one showing all three of his screens, and the fifth from behind, showing MuTeX's entire set-up.
Despite MuTeX's stream, the debate around his gameplay has continued. "Unbelievable stream <3," he tweeted. "Had to show all these ppl to never lose faith in me, I will never ever EVER fucking cheat in anything in my life. 15,000+ viewers watched me fry with 5 different cameras the whole time. 30+ games with ease and the nuttiest gameplay."
Activision has faced an uphill battle against Warzone cheaters, and despite appearing to get on top of the problem earlier this year, the feeling among the community is that cheating is on the rise once again.