Warzone best M4A1 loadout: Our M4A1 class setup recommendation and how to unlock the M4A1 explained
Here's how to get the most out of the M4A1 in Call of Duty: Warzone.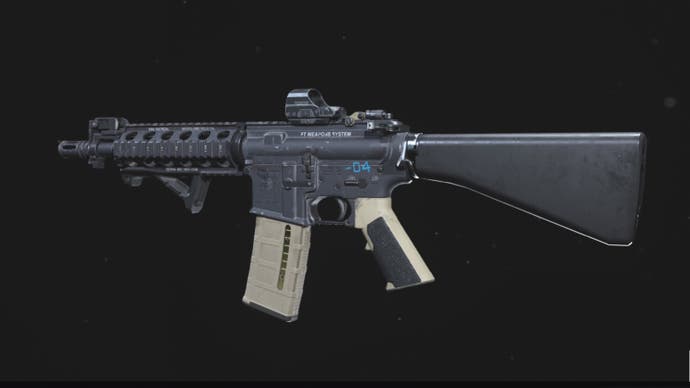 The M4A1 in Warzone is one of the first weapons available the game, but don't let that dissuade you from giving it a spin.
The M4A1 is, for our money, one of the best weapons in Warzone, balancing precision with power for long range combat capabilities.
New Warzone seasons and updates always bring changes to weapons and attachments, but that doesn't mean the M4A1 has ever been anything less than superb for the battle royale game.
The M4A1 is one of the best guns in Warzone because it's suited to every game mode and situation you'll find yourself in. The weapon excels in both long range and close quarters combat, and it's an excellent choice no matter if you're playing solos, duos, trios, or one of the limited time events like Plunder or Zombie Royale.
This page explains how to use the best M4A1 loadout to create the best M4A1 class to allow you to get the most out of the weapon.
On this page:
If you're looking for other loadout recommendations, we have pages on the Grau, MP7, Kilo, and M13.
How to unlock M4A1 in Warzone
The M4A1 might be unlocked from the moment you first boot up Call of Duty: Warzone for the first time, but that doesn't mean everything related to the weapon is also unlocked. As with every weapon in Call of Duty games both new and old, you'll have to level up your rank with the M4A1 to unlock some of the better attachments for the weapon (more on that below).
To rank up a weapon, you simply need to spend time with it equipped in Warzone. While you'll always be gaining and steady trickle of XP for the M4A1 while it's equipped, you can speed up the process by using it to slay enemies, take down scorestreaks, complete objectives, and you'll gain even more weapon XP for the M4A1 if you active a weapon-orientated token before a Warzone match kicks off (this can be done by clicking the left analogue stick in while on Warzone's main menu.
Best M4A1 loadout and attachments in Warzone
Below, you can see a brief list of the best M4A1 attachments that we'd recommend equipping in Call of Duty: Warzone.
FSS Commando (Unlocks at level 9)
Operator Reflex Sight (Unlocks at level 7)
M16 Stock (Unlocks at level 16)
Commando Foregrip (Unlocks at level 4)
Granulated Grip Tape (Unlocks at level 22)
On the barrel of the M4A1, you'll want to put the FSS Commando, giving you a boost to aim down sight speed and movement speed, with the former being critical in quick-draw situations against close quarters opponents. For optics, you can really go with whatever you feel comfortable using as an aiming reticule, but we've found the Operator Reflex Sight strikes a nice balance between close and long range precision.
Boosted aiming stability can make the M4A1 a long range powerhouse, so we'd recommend putting the M16 Stock, Commando Foregrip, and Granulated Grip tape on the weapon for these reasons. All three attachments will give your M4A1 a big boost to weapon stability, and the Commando Foregrip in particular will give you a nice boost to recoil stabilisation.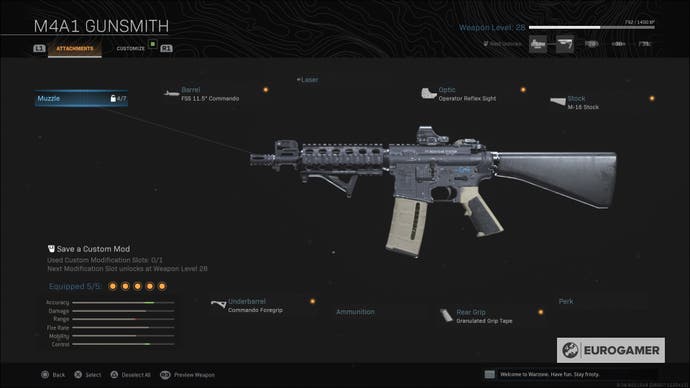 ---
Warzone Season 5 is almost here! If you want to learn more about firepower from previously, we explain the best Welgun loadout, best Cooper Carbine loadout, best Gorenko Anti-Tank Rifle loadout, best STG44 loadout, best MP40 loadout, best Automaton loadout, best BAR loadout, best Combat Shotgun loadout, best Type 100 loadout, and best Kar98k loadouts.
---
Best M4A1 class set up in Warzone
Here's our pick of the best Perks and equipment items to create the best M4A1 class in Call of Duty: Warzone.
Perk 1: Kill Chain (Unlocks at level 34)
Perk 2: Ghost (Unlocks at level 24)
Perk 3: Tracker (Unlocks at level 51)
Secondary: Strela-P (Unlocks at level 17)
Tactical: Heartbeat Sensor (Unlocks at level 30)
Lethal: Claymore (Unlocks at level 1)
As with most custom classes in Call of Duty: Warzone, we'd highly recommend taking the Ghost Perk in your second Perk slot, and the Heartbeat Sensor as your Tactical equipment. The former hides you from enemy Radar Drones and UAV, while the latter lets you pick up nearby enemy signals.
The Claymore is always a solid option when selecting your Lethal equipment, since it gives you a great edge when hunkering down and defending a position. Elsewhere, you'll want to take the Kill Chain Perk to increase your chances of finding Killstreaks in Supply Boxes, and the Tracker Perk to follow enemies from the footprints they leave behind.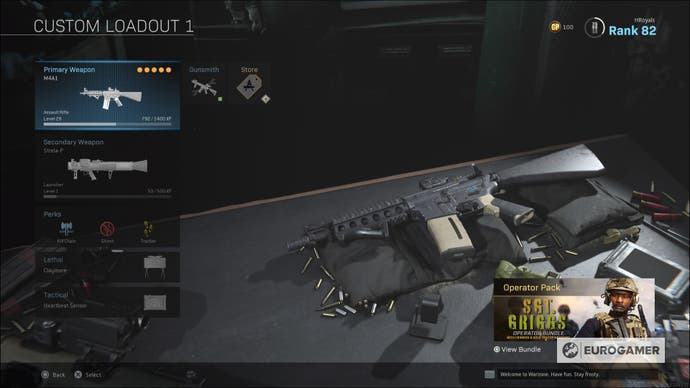 If you're looking for individual weapon choices, our Modern Warfare best guns page can help.