Where can you buy Mass Effect 3 in the UK?
Plus, Collector's Edition and previously GAME-exclusive DLC.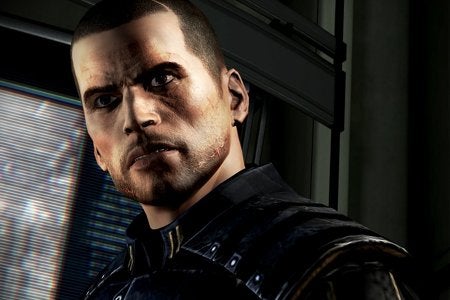 Where can you buy a copy of Mass Effect 3 when it launches in the UK next Friday, 9th March?
With GAME and Gamestation not stocking EA's sci-fi epic, Collector's Editions of the game are now hard to find.
Online retailers Amazon, Play, Shopto, Zavvi and Blockbuster are now entirely sold out, EA says.
Gamestop and Sainsbury's are currently your only online bets for this special version, which includes various extras, not least that spoilery day-one DLC squadmate.
On the high street, HMV will have copies of the Collector's Edition, but in very limited quantities, Eurogamer understands.
Those with GAME pre-orders for Mass Effect 3's standard edition who were expecting the N7 Warfare Gear in-game weapon pack can still receive the extra items by shopping at Zavvi, Play, Thehut and Shopto.
In Ireland, the N7 Warfare Gear remains available at Xtra-vision. It comes with pre-orders of the the standard edition.
For standard no-extras copies of the game, EA has provided an enormous list of retailers to buy Mass Effect 3 from - basically everywhere but GAME, Gamestation, and now shuttered online sister site Gameplay.co.uk.
Eurogamer will round up the nation's best prices for Mass Effect 3 next week. But if you've spotted any deals already, let us know in the comments section below.
HMV & HMV.COM
AMAZON.CO.UK
PLAY.COM
ZAVVI.COM
THE HUT GROUP
BLOCKBUSTER & BLOCKBUSTER.CO.UK
ARGOS & ARGOS.CO.UK
TESCO & TESCO.COM
ASDA & ASDA.COM
SHOPTO.NET
TOYS R US
SAINSBURYS & SAINSBURYS.CO.UK
MORRISONS
ARGOS
GRAINGER GAMES
GAMESTOP, GAMESTOP.CO.UK & GAMESTOP.IE
XTRA-VISION
SMYTHS TOYS
24-7 GAMES
720 GAMES
ALAM
AS ENTERTAINMENT
AWESOME GAMES
BARKMAN COMPUTERS LIMITED
BERTRAM LIBRARY SERVICES
BEXLEYHEATH
BITS & PIECES
BOOMERANG
CASTLE GAMES
CHEET SHEETS
CHIPSWORLD
COMPUTER MANIA
CONSOLE CONNECTIONS
CONSOLE MAGIC
CREATIVE ENTERTAINMENT EXCHANGE
DAILYS
DARK PLAINS LTD
DISCOVER
DISCZ
DJ COMPUTERS
DVD.CO.UK
ECLIPSE HOME ENTERTAINMENT LIMITED
EDS ENTERPRISES
EGO COMICS & VIDEO GAMES
ENTERTAINMENT BASE
ENTERTAINMENT X CHANGE
EXPRESS GIFTS
EXTREME GAMEZ
F.A KERRISON LIMITED
GADGETS & GAMING LTD
GAME CAVE
GAME CONNECTION UK
GAME EXCHANGE
GAME FORCE
GAME IN ZONE
GAME ON
GAME SHOP PLUS
GAME TRADING
GAME X BOY
GAME XCHANGE
GAMELAND
GAMES 4 U
GAMES CENTRE
GAMES CONNECTIONS LTD
GAMES UK
GAMES WORLD 4 U LTD
GAMESLAND
GAMESPOD
GAMETEX
GAMEWORLD
GAMEZ LTD
GAMINGALORE
GAMINGXTRAS
GENERATION 4 GAMING
GLOBAL SFX LTD
GROOVES
GYNX-RETAIL
HANDS ON GADGETS LTD
INSANES
LEDBURY GAMES LTD
LEES GAMES
LEVEL ONE
MAD 4 GAMEZ
MAIDSTONE
MEDIA SOLUTIONS LTD
MT GAMES
MYMEMORY.COM
N I GAMES
NEXT DIMENSION
OUTLAND
OVERCLOCKERS
PC SOFTWARE EXPRESS
PLAY AWAY
PLAYTIME VIDEO GAMES
RE- PLAY
RUSSELL GAMES
SEGA SUPPLIES
SERVICES SOUND AND VISION
SEVENTH HEAVEN COMPUTERS
SHOLING VIDEO
SNORKS STORE
SOLID GOLD GAMES CENTRE
STANS GAMES EXCHANGE
START UP SOFTWARE
TE RETAIL
TECH MOBILE
THAT GAME SHOP
THAT'Z ENTERTAINMENT
THE POWERHOUSE
TOMORROWS WORLD
TOTALLY GAMES
U PLAY GAMES EXCHANGE
VENUS ENTERTAINMENT
VERY.CO.UK
VIDEO GAME
VIDEO GAMING 247
VIDEO WORLD
X-BITE
XPRESS GAMES
ZIIP LTD