Watch: We play 3 new worlds in Super Mario Odyssey
Mareola.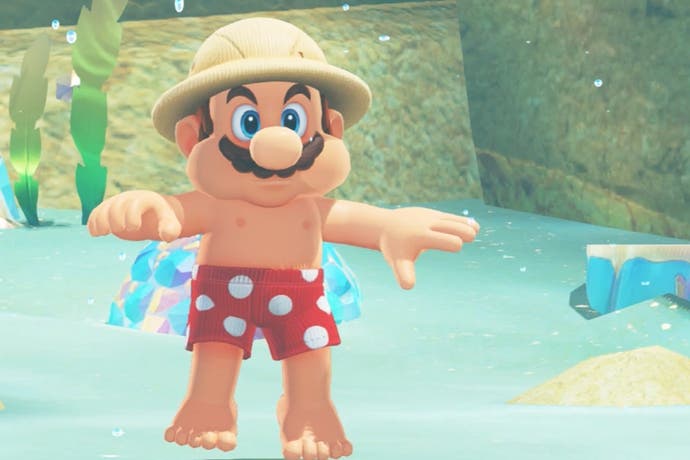 The frog was more or less out of the bag earlier today when a bunch of gameplay videos were leaked onto YouTube, but we played three new Super Mario Odyssey worlds last week at a Nintendo preview event.
The session took us from the game's very first cutscene and starting area, a Tim Burton-esque monochrome kingdom where everything is hat-shaped and Mario can take control of frogs, to the Luncheon Kingdom, where you can become a giant slab of meat being cooked over a volcano, to a beautiful beach world where a giant octopus is stealing all the carbonated beverages for himself.
It's as madcap and delightful as it sounds, and we managed to capture some gameplay along with our initial reactions, which you can watch below. The downside is, for non-spoiler purposes, we were only allowed to show ten minutes of what we captured, so it's a little bit whistle-stop, but hopefully in the best possible way. Our reaction to seeing Mario's nipples for the very first time was a particular highlight.
If you'd like a more in-depth impression of this extended gameplay session, however, you can watch this slightly more considered take, pinpointing seven excellent things we saw and did. I'll be honest though, they had me the second they put a moustache on a Cheep-cheep. Lovely stuff.
So after watching the gameplay, what do you think? The sight of Mario's nipples alone was enough to make Switch-sceptic Ian Higton finally buy the console so it must be doing something right!