Watch: Hands on with Battlezone's co-operative campaign
World of tanks.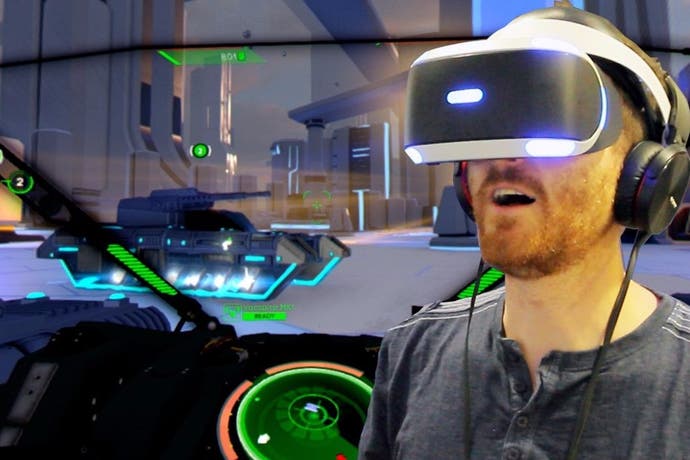 Back in the early 90s when I was blowing on cartridges and recording episodes of Captain N: The Game Master on VHS, the thought of being able to play video games with my friends in virtual reality was the sole preserve of science fiction. Twenty-five years later however, those childhood dreams look set to become a reality.
During a trip to Rebellion's studios in Oxford I grabbed an extended hands-on with Battlezone's 4-player cooperative multiplayer campaign on the PSVR. It's drop-in, drop-out coop with a procedural campaign and it really opened my mind to the potential of multiplayer gaming with Sony's VR kit.
Not only was this my first ever time playing a multiplayer VR game, but it was also the first time I've been able to capture straight from a PSVR itself - something which, thankfully, is very easy to do due to the plug and play nature of the device. That's why, just below these words you'll find a 22 minute long video of me having a lovely time in virtual reality with three of Battlezones developers.
Now, I do mention this in my video but it's worth pointing out here that, yes, the gameplay footage in this video is of a noticeably low resolution. This is due to the way the PSVR sends gameplay to a single screen source, like a monitor or a capture device, but as anyone who played the demo at this year's EGX can attest, the graphics look a lot crisper when you're inside the helmet.
Have you pre-ordered a PSVR yet? Maybe this video has tipped you over the edge and convinced to you take the plunge. Whatever you think about VR and its future, let me know in the comments below. I'm really excited for it now and can't wait to stream some for you over on our YouTube channel when it finally launches!
Tanks for watching!