Warframe's massive open-world Venus expansion, Fortuna, is out next month on PC
Console versions due "soon after".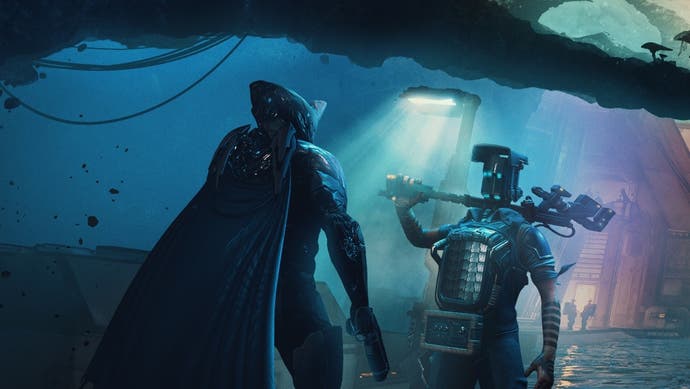 Developer Digital Extremes has announced that Fortuna - Warframe's massive open-world Venus expansion - will be launching on PC in November, with an Xbox One and PlayStation 4 release due "soon after".
Fortuna was first unveiled during Warframe's third-annual TennoCon, which took place in July this year, and it looks spectacular. Much like last year's Plains of Eidolon expansion, Fortuna is entirely open-world - initially focussing on the titular, hub-like subterranean home of the Solaris United, before opening out onto the sprawling, snowy surface of Venus above.
When Digital Extremes debuted Fortuna at TennoCon, it did so with a lengthy, and very impressive, 30 minutes of gameplay, which you can see in the video below. It offers a small but sufficiently intriguing taste of the new activities available on the frozen Venusian wastes.
There's animal tracking, in which players are tasked with saving the planet's endangered wildlife, formidable (and enormous) Corpus spiders to confront, and a fancy new mode of travel in the form of the K-Drive - a swish hoverboard that can do flips and tricks.
There's no additional news to share about Fortuna beyond that November release window just yet, but if you're interested in Warframe's future, then it's well worth taking a look at TennoCon's other revelation: the frankly astonishing Railjack demo - in which three crew members pilot a ship from the surface of Venus up into space, where chaotic battle ensues.
Alas, Railjack (which you can see from the 21-minute mark in the video above) is still some way off by the sounds of it, and won't be heading to Warframe as part of the Fortuna update.
Fortuna isn't the last big piece of Warframe excitement due this year, of course. Digital Extremes' superb free-to-play sci-fi shooter will also be launching on Switch, courtesy of respected porting studio Panic Button, on November 20th.