UK Top 40: Skyrim dethrones Modern Warfare 3
Sales soar 145 per cent after price cuts.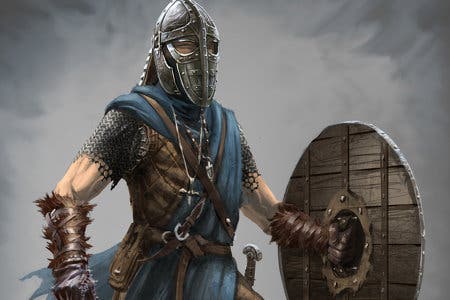 Bethesda behemoth The Elder Scrolls 5: Skyrim has knocked Call of Duty: Modern Warfare 3 off of the UK all-format chart top spot.
Skyrim sales rose 145 per cent, levelling the RPG up the chart from fifth last week to first.
The price of Skyrim dropped by an average of £13 compared to last week.
The games launched head-to-head, five weeks ago. Modern Warfare 3 has held first place in the chart ever since.
Ubisoft song-fest Just Dance 3 rose for the fourth week running into third place, no doubt helped by the launch of the game's PlayStation 3 version.
FIFA 12 and Assassin's Creed: Revelations made up the rest of the top five.
Battlefield 3 was sixth, ahead of the new Professor Layton game Spectre's Call, which held seventh for the third week running.
Saint's Row: The Third, Uncharted 3 and Mario Kart 7 also managed top ten finishes.
Just below, Mario & Sonic London 2012 Olympics remained eleventh despite sales rising 16 per cent.
And Rayman: Origins entered the chart for the first time in 39th, three weeks after launch.
The full chart lies below.
| This Week | Last Week | Title | Platform(s) |
| --- | --- | --- | --- |
| 1 | 5 | The Elder Scrolls 5: Skyrim | PC, PS3, Xbox 360 |
| 2 | 1 | Call of Duty: Modern Warfare 3 | DS, PC, PS3, Wii, Xbox 360 |
| 3 | 4 | Just Dance 3 | Wii, Xbox 360 |
| 4 | 2 | FIFA 12 | PS3, Xbox 360 |
| 5 | 3 | Assassin's Creed: Revelations | PC, PS3, Xbox 360 |
| 6 | 9 | Battlefield 3 | PC, PS3, Xbox 360 |
| 7 | 7 | Professor Layton and the Spectre's Call | DS |
| 8 | 6 | Saints Row: The Third | PC, PS3, Xbox 360 |
| 9 | 16 | Uncharted 3: Drake's Deception | PS3 |
| 10 | 8 | Mario Kart 7 | 3DS |
| 11 | 11 | Mario & Sonic: London 2012 Olympic Games | Wii |
| 12 | 10 | Super Mario 3D Land | 3DS |
| 13 | 12 | Need for Speed: The Run | PC, PS3, Wii, Xbox 360 |
| 14 | 18 | Forza Motorsport 4 | Xbox 360 |
| 15 | 15 | Batman: Arkham City | PS3, Xbox 360 |
| 16 | 19 | Lego Harry Potter: Years 5-7 | PC, PS3, Wii, Xbox 360 |
| 17 | 20 | Zumba Fitness | Wii, PS3, Xbox 360 |
| 18 | 17 | Skylanders: Spyro's Adventure | 3DS, PS3, Wii, Xbox 360 |
| 19 | 21 | Michael Jackson: The Experience | DS, PS3, Wii, Xbox 360 |
| 20 | 30 | Abba: You Can Dance | Wii |
| 21 | 25 | Sonic Generations | PS3, Xbox 360 |
| 22 | 23 | Mario Kart Wii | Wii |
| 23 | 14 | WWE '12 | PS3, Xbox 360 |
| 24 | 34 | Zumba Fitness 2 | Wii |
| 25 | 26 | Kinect Sports | Xbox 360 |
| 26 | 13 | Moshi Monsters: Moshling Zoo | DS |
| 27 | 22 | Football Manager 2012 | PC |
| 28 | Re-entry | GoldenEye: Reloaded | PS3, Xbox 360 |
| 29 | 27 | The Legend of Zelda: Skyward Sword | Wii |
| 30 | 37 | Kinect Sports: Season 2 | Xbox 360 |
| 31 | 24 | Rage | PC, PS3, Xbox 360 |
| 32 | 29 | Cars 2 | DS, PC, PS3, Wii, Xbox 360 |
| 33 | 31 | Lego Pirates of the Caribbean | 3DS, DS, PC, PS3, Wii, Xbox 360 |
| 34 | 33 | Dance Central | Xbox 360 |
| 35 | 28 | Halo: Combat Evolved Anniversary | Xbox 360 |
| 36 | Re-entry | F1 2011 | PS3 |
| 37 | Re-entry | Wii Party | Wii |
| 38 | 40 | Gears of War 3 | Xbox 360 |
| 39 | New entry | Rayman Origins | PS3, Wii, Xbox 360 |
| 40 | 32 | Tintin: Secret of the Unicorn | 3DS, PS3, Wii, Xbox 360 |