UK Top 40: Final Fantasy 13-2 wins first place
Metal Gear HD beats SoulCalibur 5, NeverDead no-where.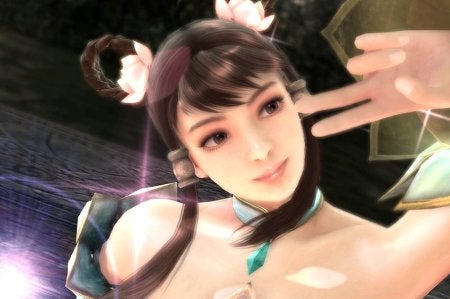 Final Fantasy 13-2 has entered the UK all-formats chart in first place, ending FIFA 12's reign on top.
Metal Gear Solid HD Collection, a trilogy of classic MGS games now made a little prettier, arrived in second.
Fellow new entry SoulCalibur 5 was fifth, behind Battlefield 3 and FIFA.
Last week's other new game release, limb-detachment shooter NeverDead, failed to find footing in the top 40 altogether.
That left Assassin's Creed: Revelations, Modern Warfare 3, Skyrim, Just Dance 3 and Saints Row: The Third to fill out the remainder of the top 10.
The full chart lies below.
| This Week | Last Week | Title | Platform(s) |
| --- | --- | --- | --- |
| 1 | New entry | Final Fantasy 13-2 | PS3, Xbox 360 |
| 2 | New entry | Metal Gear Solid: HD Collection | PS3, Xbox 360 |
| 3 | 5 | Battlefield 3 | PC, PS3, Xbox 360 |
| 4 | 1 | FIFA 12 | PS3, Xbox 360 |
| 5 | New entry | SoulCalibur 5 | PS3, Xbox 360 |
| 6 | 9 | Assassin's Creed: Revelations | PC, PS3, Xbox 360 |
| 7 | 2 | Call of Duty: Modern Warfare 3 | DS, PC, PS3, Wii, Xbox 360 |
| 8 | 3 | The Elder Scrolls 5: Skyrim | PC, PS3, Xbox 360 |
| 9 | 4 | Just Dance 3 | Wii, Xbox 360 |
| 10 | 8 | Saints Row: The Third | PC, PS3, Xbox 360 |
| 11 | 7 | Zumba Fitness | Wii, PS3, Xbox 360 |
| 12 | 11 | Rage | PC, PS3, Xbox 360 |
| 13 | 10 | Zumba Fitness 2 | Wii |
| 14 | 14 | Football Manager 2012 | PC |
| 15 | 15 | Need for Speed: The Run | PC, PS3, Wii, Xbox 360 |
| 16 | 16 | Super Mario 3D Land | 3DS |
| 17 | 17 | Mario Kart 7 | 3DS |
| 18 | 12 | Rayman Origins | PS3, Wii, Xbox 360 |
| 19 | 6 | Resident Evil: Revelations | 3DS |
| 20 | 19 | Cars 2 | DS, PC, PS3, Wii, Xbox 360 |
| 21 | 21 | Lego Pirates of the Caribbean | 3DS, DS, PC, PS3, Wii, Xbox 360 |
| 22 | 22 | Skylanders: Spyro's Adventure | 3DS, PS3, Wii, Xbox 360 |
| 23 | 26 | Dead Island | PC, PS3, Xbox 360 |
| 24 | 20 | WWE '12 | PS3, Xbox 360 |
| 25 | 28 | Forza Motorsport 4 | Xbox 360 |
| 26 | 31 | Batman: Arkham City | PS3, Xbox 360 |
| 27 | 24 | Moshi Monsters: Moshling Zoo | DS |
| 28 | 30 | Lego Harry Potter: Years 5-7 | PC, PS3, Wii, Xbox 360 |
| 29 | 29 | Mario & Sonic: London 2012 Olympic Games | Wii |
| 30 | 33 | Uncharted 3: Drake's Deception | PS3 |
| 31 | 15 | Sonic Generations | PS3, Xbox 360 |
| 32 | 34 | Skate 3 | PS3, Xbox 360 |
| 33 | 32 | Mario Kart Wii | Wii |
| 34 | 17 | Your Shape: Fitness Evolved 2012 | Xbox 360 |
| 35 | 27 | Wii Fit Plus | Wii |
| 36 | 38 | The Sims 3 | 3DS, PC, PS3, Wii, Xbox 360 |
| 37 | 18 | Kinect Sports: Season 2 | Xbox 360 |
| 38 | Re-entry | Goldeneye: Reloaded | PS3, Xbox 360 |
| 39 | 36 | Abba: So You Can Dance | Wii |
| 40 | Re-entry | Professor Layton and the Spectre's Call | DS |