UK Top 40: FIFA 12 enters 2012 in top spot
EA footy outing kicks new year chart.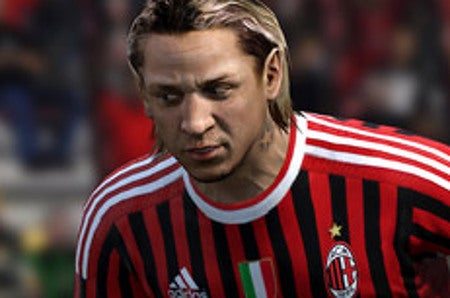 The best-selling UK video game during the first week of 2012 was FIFA 12. It was also last week's final top title of 2011.
Battlefield 3 edges past Modern Warfare 3 to claim second, with Call of Duty close behind in third.
Ubisoft boogie title Just Dance 3 was fourth, while Skyrim, the UK's Christmas number one, was fifth.
Chart stalwart Zumba Fitness shot up from 19th place to sixth.
Need for Speed: The Run, Saint's Row: The Third, Rage and Assassin's Creed: Revelations rounded out the rest of the top ten.
The full top 40 lies below this video of Wayne Rooney and a small dog.
| This Week | Last Week | Title | Platform(s) |
| --- | --- | --- | --- |
| 1 | 1 | FIFA 12 | PS3, Xbox 360 |
| 2 | 3 | Battlefield 3 | PC, PS3, Xbox 360 |
| 3 | 2 | Call of Duty: Modern Warfare 3 | DS, PC, PS3, Wii, Xbox 360 |
| 4 | 4 | Just Dance 3 | Wii, Xbox 360 |
| 5 | 8 | The Elder Scrolls 5: Skyrim | PC, PS3, Xbox 360 |
| 6 | 19 | Zumba Fitness | Wii, PS3, Xbox 360 |
| 7 | 7 | Need for Speed: The Run | PC, PS3, Wii, Xbox 360 |
| 8 | 6 | Saints Row: The Third | PC, PS3, Xbox 360 |
| 9 | 12 | Rage | PC, PS3, Xbox 360 |
| 10 | 5 | Assassin's Creed: Revelations | PC, PS3, Xbox 360 |
| 11 | 10 | Forza Motorsport 4 | Xbox 360 |
| 12 | 28 | Zumba Fitness 2 | Wii |
| 13 | 9 | Mario Kart 7 | 3DS |
| 14 | 11 | Mario & Sonic: London 2012 Olympic Games | Wii |
| 15 | 14 | Super Mario 3D Land | 3DS |
| 16 | 21 | Football Manager 2012 | PC |
| 17 | 15 | Sonic Generations | PS3, Xbox 360 |
| 18 | 16 | Kinect Sports: Season 2 | Xbox 360 |
| 19 | 18 | Rayman Origins | PS3, Wii, Xbox 360 |
| 20 | 37 | EA Sports Active 2 | PS3, Wii, Xbox 360 |
| 21 | 17 | Kinect Sports | Xbox 360 |
| 22 | 26 | Lego Harry Potter: Years 5-7 | PC, PS3, Wii, Xbox 360 |
| 23 | 25 | Lego Pirates of the Caribbean | 3DS, DS, PC, PS3, Wii, Xbox 360 |
| 24 | 23 | Halo: Combat Evolved Anniversary | Xbox 360 |
| 25 | 22 | Uncharted 3: Drake's Deception | PS3 |
| 26 | 13 | WWE '12 | PS3, Xbox 360 |
| 27 | Re-entry | Wii Fit Plus | Wii |
| 28 | 24 | Batman: Arkham City | PS3, Xbox 360 |
| 29 | 29 | Skylanders: Spyro's Adventure | 3DS, PS3, Wii, Xbox 360 |
| 30 | 36 | Professor Layton and the Spectre's Call | DS |
| 31 | 33 | Cars 2 | DS, PC, PS3, Wii, Xbox 360 |
| 32 | 30 | Moshi Monsters: Moshling Zoo | DS |
| 33 | 27 | Dance Central | Xbox 360 |
| 34 | 32 | Mario Kart Wii | Wii |
| 35 | 39 | The Sims 3 | 3DS, PC, PS3, Wii, Xbox 360 |
| 36 | Re-entry | Tintin: Secret of the Unicorn | PC, PS3, Xbox 360 |
| 37 | 20 | F1 2011 | PS3 |
| 38 | 34 | Dead Island | PC, PS3, Xbox 360 |
| 39 | 38 | Star Wars: The Old Republic | PC |
| 40 | Re-entry | Lego Harry Potter Years 1-4 | PC, PS3, Xbox 360 |