UK Top 40: Battlefield 3 denies Uncharted 3
Sonic scores tenth, GoldenEye lands 16th.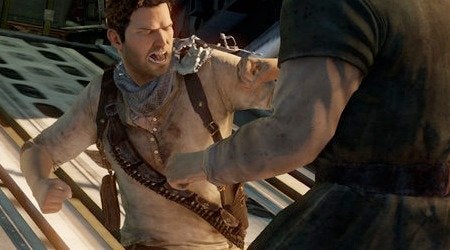 Battlefield 3 has clung to the top spot in the UK all format charts, denying PlayStation 3 exclusive Uncharted 3 a first place finish.
It's the first time a Battlefield game has survived a second week at the top, and it does so despite a 54 per cent drop in sales from last week.
Uncharted 3 sold 37 per cent more than Uncharted 2 to score the eleventh biggest PS3 launch ever.
Last week's other big releases fared less well. Sonic Generations squeaked a top ten finish, arriving in tenth. Activision's Bond remake GoldenEye Reloaded scored 16th, while Disney Universe was 25th.
Kinect title Rabbids Alive and Kicking and PS3 role-player Disgaea 4 failed to appear at all.
The rest of the top ten remains largely unchanged. Batman fell to fourth below FIFA 12, while Just Dance 3 holds firm in fifth.
Football Manager 2012, Forza 4, Zumba and Skylanders: Spyro's Adventure made up the rest of the top flight.
The full top 40 lies below.
| This Week | Last Week | Title | Platform(s) |
| --- | --- | --- | --- |
| 1 | 1 | Battlefield 3 | PC, PS3, Xbox 360 |
| 2 | New entry | Uncharted 3 | PS3 |
| 3 | 3 | FIFA 12 | PS3, Xbox 360 |
| 4 | 2 | Batman: Arkham City | PS3, Xbox 360 |
| 5 | 5 | Just Dance 3 | Wii, Xbox 360 |
| 6 | 4 | Football Manager 2012 | PC |
| 7 | 6 | Forza 4 | Xbox 360 |
| 8 | 8 | Zumba Fitness | Wii, PS3, Xbox 360 |
| 9 | 9 | Skylanders: Spyro's Adventure | 3DS, PS3, Wii, Xbox 360 |
| 10 | New entry | Sonic Generations | PS3, Xbox 360 |
| 11 | 15 | F1 2011 | PC, PS3, Xbox 360 |
| 12 | 18 | Kinect Sports: Season 2 | Xbox 360 |
| 13 | 11 | PES 2012 | PS3, PC, Xbox 360 |
| 14 | 12 | Lego Pirates of the Caribbean | 3DS, DS, PC, PS3, Wii, Xbox 360 |
| 15 | 29 | Michael Jackson: The Experience | DS, PS3, Wii, Xbox 360 |
| 16 | New entry | GoldenEye Reloaded | PS3, Xbox 360 |
| 17 | 7 | The Sims 3: Pets | 3DS, PC, PS3, Xbox 360 |
| 18 | 17 | Deus Ex: Human Revolution | PC, PS3, Xbox 360 |
| 19 | 14 | Gears of War 3 | Xbox 360 |
| 20 | 10 | Rage | PC, PS3, Xbox 360 |
| 21 | 13 | Mario Kart Wii | Wii |
| 22 | 35 | Tintin: Secret of the Unicorn | 3DS, PS3, Wii, Xbox 360 |
| 23 | 16 | Dead Island | PC, PS3, Xbox 360 |
| 24 | 19 | Driver: San Francisco | PC, PS3, Xbox 360 |
| 25 | New entry | Disney Universe | PS3, Wii, Xbox 360 |
| 26 | 31 | Wii Sports Resort | Wii |
| 27 | 30 | Cars 2 | DS, PC, PS3, Wii, Xbox 360 |
| 28 | 24 | The Sims 3 | DS, PC, PS3, Xbox 360 |
| 29 | 32 | Lego Harry Potter: Years 1-4 | DS, PC, PS3, PSP, Wii, Xbox 360 |
| 30 | 26 | Assassin's Creed: Brotherhood | PC, PS3, Xbox 360 |
| 31 | 28 | Gran Turismo 5 | PS3 |
| 32 | 22 | Warhammer 40K: Space Marine | PC, PS3, Xbox 360 |
| 33 | Re-entry | Let's Draw | DS |
| 34 | 27 | Lego Star Wars III: The Clone Wars | 3DS, DS, PC, PS3, PSP, Wii, Xbox 360 |
| 35 | 38 | Just Dance 2 | Wii |
| 36 | 33 | Phineas & Ferb: Across the 2nd Dimension | PS3, Wii |
| 37 | 25 | Call of Duty: Black Ops | DS, PC, PS3, Wii, Xbox 360 |
| 38 | Re-entry | Wii Party | Xbox 360 |
| 39 | 34 | Dance Central 2 | Xbox 360 |
| 40 | Re-entry | The Gunstringer | Xbox 360 |