UK chart: Sleeping Dogs hounds London 2012 Olympics from top spot
New Super Mario Bros. 2 counted in second.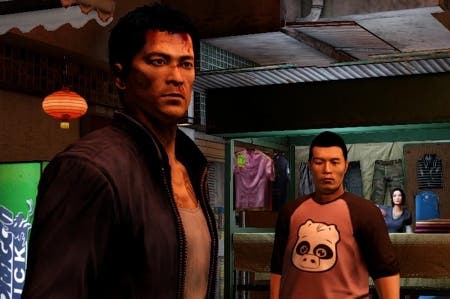 Open-world crime drama Sleeping Dogs has bounded to the top of the UK all-format charts, toppling Sega's London 2012 Olympics tie-in.
The Hong Kong-set adventure beat Nintendo's New Super Mario Bros. 2 - although the former launched on three platforms, compared to the smaller 3DS userbase.
It's worth noting that Mario was also available to download from the 3DS eShop. Digital sales are not counted by UK listings company Chart-Track.
Little else changed in the rest of the chart - London 2012 was pushed down into third, ahead of Lego Batman 2 and Mario & Sonic: London Olympics 2012 in fourth and fifth, respectively.
The only other new entry was Disney Pixar film tie-in Brave, which arrived in 39th place.
The full chart lies below.
| This Week | Last Week | Title | Platform(s) |
| --- | --- | --- | --- |
| 1 | New entry | Sleeping Dogs | PC, PS3, Xbox 360 |
| 2 | New entry | New Super Mario Bros. 2 | 3DS |
| 3 | 1 | London 2012: The Official Video Game | PC, PS3, Xbox 360 |
| 4 | 2 | Lego Batman 2: DC Super Heroes | DS, PC, PS2, PS3, PSP, Wii, Xbox 360 |
| 5 | 3 | Mario & Sonic: London 2012 Olympic Games | Wii |
| 6 | 4 | Batman: Arkham City | PS3, Xbox 360 |
| 7 | 5 | The Amazing Spider-Man | 3DS, DS, PC, PS3, Wii, Xbox 360. |
| 8 | 10 | Ghost Recon: Future Soldier | PC, PS3, Xbox 360 |
| 9 | 9 | Dead Island: GOTY Edition | PC, Xbox 360, Xbox 360 |
| 10 | 20 | Lego Harry Potter: Years 5-7 | PS3, Wii, Xbox 360 |
| 11 | 6 | The Elder Scrolls 5: Skyrim | PC, PS3, Xbox 360 |
| 12 | 11 | FIFA 12 | PS3, Xbox 360 |
| 13 | 7 | Battlefield 3 | PC, PS3, Xbox 360 |
| 14 | 13 | Mario Kart 7 | 3DS |
| 15 | 12 | Call of Duty: Black Ops | PC, PS3, Wii, Xbox 360 |
| 16 | 16 | Skylanders: Spyro's Adventure | 3DS, PS3, Wii, Xbox 360 |
| 17 | 8 | Assassin's Creed: Revelations | PC, PS3, Xbox 360 |
| 18 | 14 | Super Mario 3D Land | 3DS |
| 19 | 17 | Grand Theft Auto Episodes - Liberty City | PS3, Xbox 360 |
| 20 | 23 | Sonic Generations | 3DS, PS3, Xbox 360 |
| 21 | 30 | Saints Row: The Third | PS3, Xbox 360 |
| 22 | 18 | Moshi Monsters: Moshling Zoo | DS |
| 23 | 21 | Lego Pirates of the Caribbean | DS, 3DS, PS3, Wii, Xbox 360 |
| 24 | 26 | Spec Ops: The Line | PC, PS3, Xbox 360 |
| 25 | 25 | Rayman Origins | PS3, Wii, Xbox 360 |
| 26 | Re-entry | Lego Harry Potter: Years 1-4 | PS3, Wii, Xbox 360 |
| 27 | 24 | Skate 3 | PS3, Xbox 360 |
| 28 | 19 | WWE '12 | PS3, Xbox 360 |
| 29 | 33 | Grand Theft Auto 4 | PC, PS3, Xbox 360 |
| 30 | 38 | Sniper: Ghost Warrior | DS, PS3, Xbox 360 |
| 31 | 22 | The Sims 3 | PC, PS3, Xbox 360 |
| 32 | 35 | Forza 4 | Xbox 360 |
| 33 | Re-entry | Toy Story 3 | DS, PS3, Wii, Xbox 360 |
| 34 | 28 | Call of Duty: Modern Warfare 3 | DS, PC, PS3, Wii, Xbox 360 |
| 35 | 34 | Lego Batman | DS, PS3, Wii, Xbox 360 |
| 36 | 31 | Kingdoms of Amalur: Reckoning | PC, PS3, Xbox 360 |
| 37 | 29 | Need for Speed: The Run | 3DS, PC, PS3, Wii, Xbox 360 |
| 38 | Re-entry | Mario Kart Wii | Wii |
| 39 | New entry | Brave | DS, PS3, Wii, Xbox 360 |
| 40 | Re-entry | Tiger Woods PGA Tour 13 | PS3, Xbox 360 |