Ubisoft tweaks Watch Dogs 2 DLC plan to make multiplayer add-on free
I left my heart in San Francisco.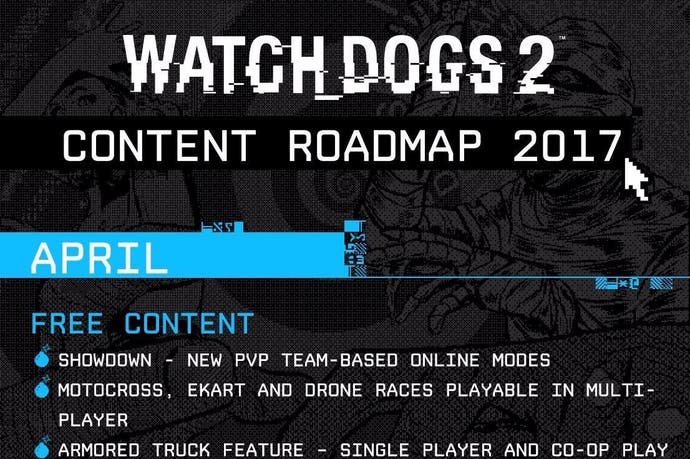 Ubisoft has outlined its revised DLC plan for Watch Dogs 2, which includes a key change.

We knew about the No Compromise DLC, due out on PlayStation 4 on 18th April and then on Xbox One and PC on 18th May. This adds a set of story missions that pit Marcus against the Russian mob.
The original plan was to include a suite of new multiplayer modes collectively called Showdown in the No Compromise DLC, but Ubisoft has decided to strip this out and make it available on all platforms via a free update set for 17th April.
To fill the gap left by Showdown going free, Ubisoft will now throw in new ability-granting outfits and vehicles, nonlethal weapons, and single-player time trials that weren't originally part of the No Compromise package.
The fact Ubisoft is making Showdown free rather than a part of paid DLC is worth noting. By doing so Ubisoft avoids splitting the Watch Dogs 2 multiplayer audience between those who have Showdown and those who do not, so the potential player pool is at its maximum.
Showdown itself sounds like it'll be interesting - it's described as an endgame challenge for experienced players spread out across 15 distinct locations. Two pairs of players fight against each other in three types of competitive matches: Steal the HDD; Doomload, a King of the Hill-style match; and Erase/Protect the Servers, a Watch Dogs twist on classic domination matches.
"There are two main drivers behind making Showdown free for all of our players," said Watch Dogs 2's live producer, Kris Young in a post on the Ubisoft blog.
"The first is that we want everyone to be able to participate and play it. We really wanted to have as many people as possible playing the mode for a better challenge, better matchmaking time and quality, and a healthier, more active community."
Meanwhile, Ubisoft has announced support for a four-player party to explore the city and play activities together is coming in June.