Ubisoft details The Division 2's first year of free content updates
Plus loads of stuff about monetisation.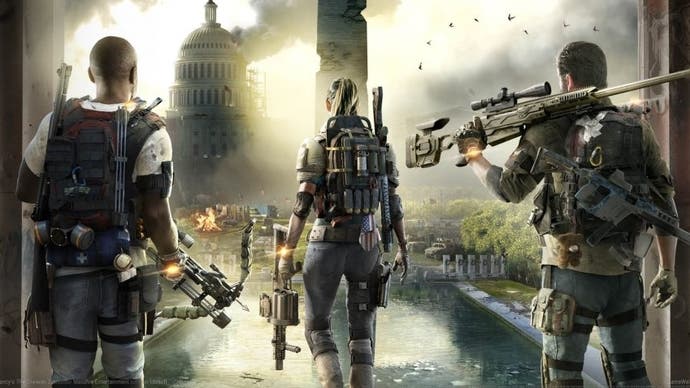 The Division 2's launch on Xbox One, PS4, and PC is only a few weeks away and, in preparation, Ubisoft has detailed the game's first year of free post-launch content updates.
In a masterstroke of imagination, Ubisoft is calling The Division 2's first year of content updates Year 1 - and this will bring a combination of new features, new episodes, and new specialisations, all free to all players.
Soon after launch, The Division 2 will introduce a new Black Tusk Faction Stronghold known as Tidal Basin, alongside Operation Dark Hours, the series' first 8-player raid.
Three episodes are also due during Year 1, each delivering "new narrative driven content", alongside new PvE and PvP modes, and more. The first, D.C. Outskirts: Expeditions, adds two new missions set in the areas surrounding Washington, and focusses on tracking down elite members of the Outcasts and the Black Tusks in order to liberate the city. There's also a new game mode in which Division Agents must form an expedition to investigate a lost convoy.
Episode 2, Pentagon: The Last Castle, adds new missions and a new "experience", all apparently unfolding within the Pentagon itself. Episode 3 will bring The Division 2's first post-launch story arc to a close, although its name and contents currently remain a mystery.
As for new specialisations, three of these are due in Year 1 - one arriving as part of each major Episode update - and each features a new signature weapon and skills tree.
Ubisoft notes that players purchasing The Division 2's Year 1 Pass will get seven days early access to post-launch episodes, and instant access to specialisations. Everyone else will need to unlock the latter "over time through gameplay". Pass holders also get exclusive access to eight additional Classified Assignments, extra Bounties and Project missions, plus various cosmetics.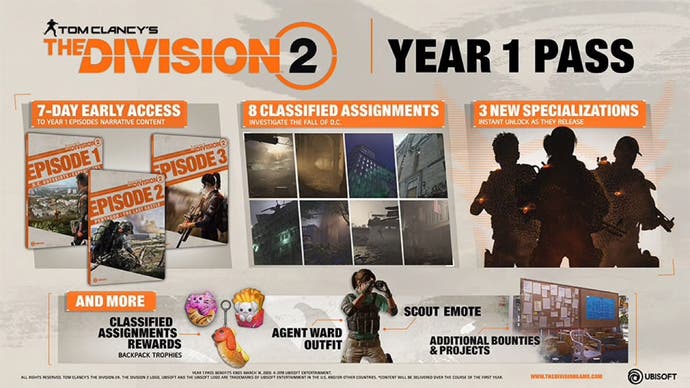 Ubisoft's blog post outlines all of the above in greater details, and also offers word on how monetisation will work in The Division 2. It's essentially a mix of loot boxes - or Caches, as they're known - and an in-game store.
The first type of Cache, the Standard Cache, contains cosmetics and is obtained by playing the game. It cannot be purchased. These can contain duplicate items, but duplicates will reward partial progress to the next cache. Event Caches, meanwhile, are available only during limited-time events and contain cosmetics specific to that event. These can be earned by completing challenges or purchased with Premium Credits, and will not contain duplicate items.
As for the Apparel Store, this, says Ubisoft, enables players to purchase specific items using Premium Credits, and "exists for those who wish to know exactly what they are buying and are looking to acquire a specific cosmetic item." There are plenty more details regarding monetisation in Ubisoft's blog post, if you're looking to determine whether The Division 2 stays on the right side of what you consider to be acceptable.
For those keen to take The Division 2 for an early spin prior to launch on March 15th, Ubisoft is holding an open beta from March 1st until March 4th on Xbox One, PS4, and PC.