Titanfall 2, Gears 4 price plunge at HMV on Black Friday
UPDATE: PC version £25 on Amazon now.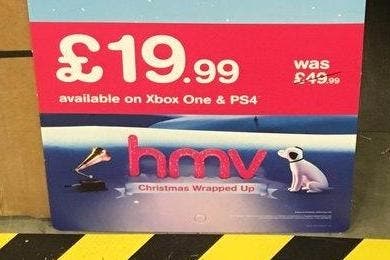 UPDATE 23/11/16 9.40am: It's live. HMV's ridiculous £19.99 price for Titanfall 2 on PlayStation 4 and Xbox One is available now, although stock has been reported as limited.
Here's proof of the deal, from NeoGAF: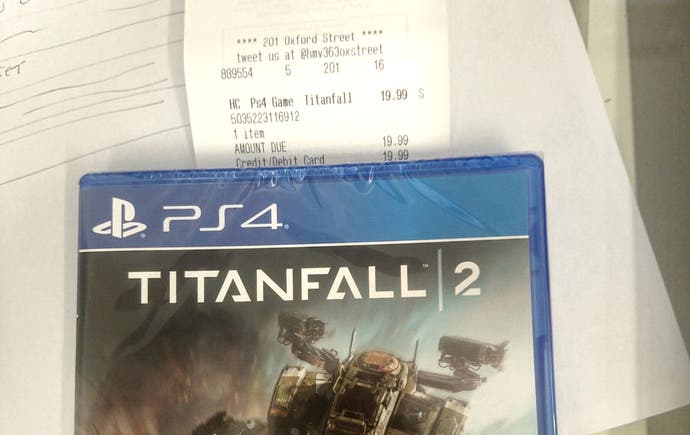 UPDATE 23/11/16 11.56am: HMV's eye-catching Titanfall 2 for £20 offer will be joined by a tempting deal on Gears of War 4 as well.
Confirming the £19.99 price Eurogamer reported earlier in the week, the retailer has now said it will sell Gears of War 4 for only a little more - £22.99.
UPDATE 22/11/16 11.25am: You don't need to wait until Black Friday (this Friday) for a deal on Titanfall 2 - at least not on PC. Amazon will sell you a personal computer copy for just £25 - a good chunk off of its RRP.
The offer is available now on Amazon UK.
UPDATE 21/11/16 2.45pm: We've now heard from HMV that its Titanfall 2 offer is not quite yet live - but that it will be introducing gaming discounts on Friday - which is annual sales bonanza Black Friday.
HMV could not officially announce the £19.99 price point ahead of time - it is still to confirm its final pricing, we were told - but the existence of in-store advertising would certainly point to this being the case.
ORIGINAL STORY 21/11/16 2.00pm: Despite launching less than a month ago, Titanfall 2 has been cut in price to £19.99 at HMV.
In-store promotional material advertises the offer as a saving of £30, down from the game's RRP of £49.99.
PlayStation 4 and Xbox One copies of the game have both been reduced.
Titanfall 2 was critically-acclaimed upon its release last month but failed to set tills ringing.
Despite glowing reviews, Titanfall 2 turned out to be a commercial disappointment. It did not match launch sales of its predecessor despite arriving on PlayStation 4 as well as Xbox One and PC - although many other sequels launched in the past month have similarly failed to do so.
Fans of the series have criticised publisher EA for launching Titanfall 2 sandwiched between two of the biggest shooters of the year - Call of Duty: Infinite Warfare and EA's own Battlefield 1.
Will there be a Titanfall 3? EA has said it is "commited to the series for many, many years" although developer Respawn does not yet know whether it will make another.
Speaking last week, Respawn boss Vince Zampella indicated he wasn't entirely sure what EA's statement meant. When reminded of the publisher's pledge, he commented: "Whatever the f*** that means."
If you'd rather shop online, we're monitoring Black Friday bargains all this week. The lists of Xbox One Black Friday deals and PS4 Black Friday deals are being updated daily, take a look.