These Star Wars games are 60% off for Xbox and PC players
Hello there.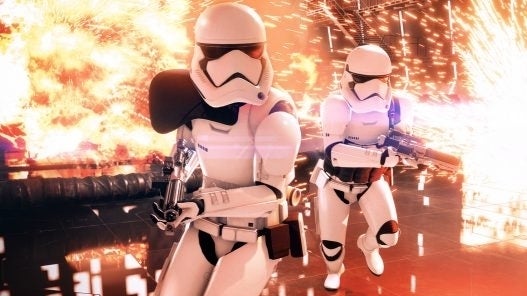 The EA Star Wars Triple Bundle is here, and it's down from £90 to just £36 if you're buying on the Microsoft Store. It comes with Star Wars: Squadrons, Jedi: Fallen Order and Battlefront 2, as well as special upgrades for the latter two.
The three games offer distinctly different takes on the Star Wars experience. Squadrons is all about space fighter combat, Fallen Order is about being a lone jedi roaming the galaxy, and Battlefront 2 is about being one soldier among many in vast battles. Something for every kind of Star Wars fan, at least until somebody makes a Cantina management sim with optional arm dispensary.
What with these games being linked to your Microsoft account, it means you'll be able to play them both on a PC or on your Xbox, assuming your account is linked to both. Not only that, but all these games will work fine on both the Xbox One and Series X/S! And if you're still interested in getting the latter, don't worry - we've got all the available stock and discounts on Xbox Series X/S right here!
Of course, there's plenty more deals and discounts here for you at Eurogamer, brought to you by Jelly Deals! Check out where to get available PS5 stock, or where you can get the cheapest possible Oculus Rift S! Or you can always head to the Jelly Deals Twitter and follow us for discounts everywhere!