The games we're looking forward to in 2022
It's a star field.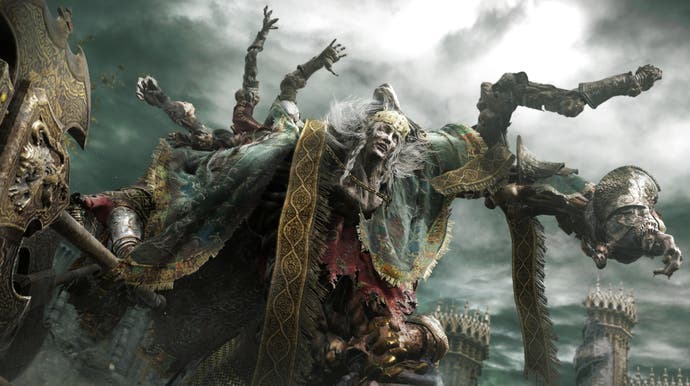 What's coming out this year? All the games that didn't come out last year! Ha ha, let's laugh off those mince pies. But it's not far from the truth. We wouldn't have the new God of War or Horizon games this year were it not for their delays, and let's hope they're all the better for it. But will they be the biggest releases this year? The Zelda Breath of the Wild sequel would argue otherwise, Elden Ring would argue otherwise, and it's hard to see many games topping either, except maybe Starfield. After all, it's not often we get a new Bethesda Game Studios game that isn't a Skyrim re-release. Yowch!
But blockbusters are one thing, and a good year of gaming far from depends on them. Look a bit closer and you see a new Bayonetta in there, a new Splatoon, a new Plague Tale game - an underrated series if you ask me. There's a new Pokémon game, because there's always a new Pokémon game, there's Tango Softworks' new spooky-looking Ghostwire: Tokyo, and there's some eye-catching martial arts in Sifu. And don't get us started on Thirsty Suitors. There's even a new Advance Wars game. What more do you want? 2022 looks like a bumper year for all of us, so we asked a variety of our writers what they were excited for. And here's what they said.
A Plague Tale: Requiem
Due sometime in 2022 on PlayStation 5, Xbox Series S/X (it will be on Game Pass), and Switch (via cloud streaming).
I didn't Recommend the first Plague Tale - briefly, I found its stealth elements unimaginative and grating - but it has stuck with me like a nasty case of rat bite fever. It certainly had a gripping cast and setting - a group of orphans from opposite poles of the class system; a grimdark rendering of medieval France in which marauding English soldiers light paths through swarms of carnivorous rodents (at least till you jolt the lanterns from their hands). I also loved the relationship between its sibling protagonists, poignantly expressed by way of collectible flowers. Here's hoping that the new one will have more of that kind of thing, and less crouching in the shrubbery lobbing rocks at helmets.
- Edwin Evans-Thirlwell
Advance Wars 1+2: Re-Boot Camp
Due in the spring on Nintendo Switch.
Forget the questionable art style, there is simply no way that this game will not completely rule the first part of 2022. It's not just Advance Wars, one of the most beautifully judged and toylike of all tactics games - it's also the sequel, which offered some of the most ingenious maps of the whole series. Andy! Sami! Grit! How you have been missed.
- Chris Donlan
Baldur's Gate 3
Aiming for 2022 on PC (and Stadia don't forget). Console versions will likely follow at a later date.
The only slight uncertainty here is whether BG3 will launch this year because officially, Larian is only "aiming" for 2022. While the prospect of it potentially not releasing this year is excruciating, it also highlights why this is such an exciting game. Larian is going to incredible lengths to ensure it honours the myriad freedoms and permutations Dungeons & Dragons famously allows. And the level of detail it's already achieved, in the portion playable in early access, is incredibly impressive. Should the rest of the game be as accomplished, and I've no reason to believe it won't be, then this could be one of the finest role-playing games we've ever seen.
- Bertie
Bayonetta 3
Coming to Switch sometime in 2022.
Bayonetta 3 will be worth the wait, I reckon. And considering the game was announced years ago, that's saying something. With development talent that draws from the Astral Chain team, Platinum's blistering take on supernatural action is in good hands. Little is really known about the game at this point, but this is a series - and a developer - that you can rely on.
- Chris Donlan
Bomb Rush Cyberfunk
Due sometime in 2022 on PC and Switch, with other consoles to follow
A spiritual successor to Jet Set Radio, Bomb Rush Cyberfunk is an intoxicating prospect. It offers a vast city to explore and a range of hipsters to skate around as. The cel-shading looks beautiful and the right composer is on board. Can the team offer up the same brilliant sense of place as the original games? Not sure yet. But as the Steam page suggests: "You will encounter a lot of weirdos." Sold.
- Chris Donlan
Citizen Sleeper
Due sometime in 2022 on PC.
After In Other Waters, I'm convinced that anything by Gareth Damian Martin is worth a look. This is someone making games that are slightly different, and they're gorgeous, mysterious and delicately powerful. Citizen Sleeper sounds fascinating: an RPG played out in the ruins of interplanetary capitalism. You are a worker who is worked to the bone. But what are you working for, and why? When will you wake up? Powerful questions indeed.
- Bertie
Clash Mini
Already available on Android and iOS in some European countries, but not the UK or US yet.
There are three new Clash games in development at the moment, but Clash Mini, which has already soft-launched in some countries, looks the most interesting to me. This is an auto-chess variant at heart, but one that uses the familiarity of the Clash universe and its brilliant units to create something that I know I will find very hard to resist. More than anything, I love the idea of auto chess running at Clash speed - quick matches, lots to learn, and lots to try out. I'm in!
- Chris Donlan
Cursed to Golf
Due Q4 on PC.
Golf in a series of platforming dungeons? As you battle to escape the underworld? (Or Golf Purgatory, which sounds just as bad.) Power-ups and weird obstacles and a never-ending series of neat gimmicks? Lovely pixelart? Cursed to Golf sounds absolutely wonderful - and publisher Thunderful has exquisite taste, so there's that too.
- Chris Donlan
Darkest Dungeon 2
Available in early access on the Epic Games Store now. Full release potentially this year.
There are some fairly transformational ideas in the sequel, and they're already working really well in the early access build. Darkest Dungeon is a series that just oozes style and class, and maliciousness, and it's all pushed further than ever here. The key to it being really great will be in the balancing. Too easy, and there won't be enough of a lasting challenge, but too hard and it'll push people away. That's why it's in early access, though - in that sense it's exactly where it should be. The only real question is, 'How long will it be there?' The loose plan is a year, which puts it out this autumn, but I've a sneaking suspicion it'll take longer. Anyway, here's hoping!
- Bertie
Dordogne
Due sometime in 2022 on PC and Switch.
Delicate watercolours and surprisingly free-spirited animation bring Dordogne to life - and it looks like no other game out there. This is a tale of memory and rediscovery, as our hero travels back to the home of her recently deceased grandmother and is drawn into a narrative that plays out in letters and puzzles. Games about memory, games about houses - Dordogne is in very good company. And it looks brilliant.
- Chris Donlan
Elden Ring
Due 25th February on PC, PS5/4, Xbox Series S/X, and Xbox One.
Is there a more eagerly awaited game this year that Elden Ring? A Miyazaki joint with the involvement of George R. R. Martin, this promises to bring games back to the early days of the 360 when everyone on your friends list was playing the same thing. Even so, what a game this promises to be, another dark fantasy rich in challenge and sonorous lore. If the recent Edge cover story didn't get you excited nothing will. This looks glorious.
- Chris Donlan
Ghostwire: Tokyo
Due in the spring on PS5 and PC.
Karate meets magic - a concept that we're always excited to hear about. Tango Softwork's latest is a first-person action game in which ghosts have invaded Tokyo while most of the living inhabitants have disappeared. What next? Karate meets magic, apparently, as you use your paranormal powers to sort this mess out.
- Chris Donlan
God of War Ragnarok
Due sometime in 2022 on PS4 and PS5.
Kratos and his son are back for this lavish sequel in which enemies are pulped and expire in fountains of Lucozade, in which axes thud into stone and flesh, and the full powers of Sony's artists and engineers are focused on very simple pleasures. The first God of War managed to provide a heady mix of puzzles, set-pieces and bosses, all wrapped up in a story that lingered in the mind a bit longer than you might have expected it to. It seems likely that the team will pull off a similar trick here.
- Chris Donlan
Hollow Knight: Silksong
Due on PC and Switch, we hope, this year.
A new hero but the same fascinating world, Silksong promises a return to the realm of Hollow Knight - one of those rare video games that actually felt like it was taking you to an actual place with its own rituals and customs, its own ways of being. Silksong looks lavish and beautiful - and with a more nimble lead, the level of challenge on offer already feels gorgeously daunting.
- Chris Donlan
Horizon: Forbidden West
Due 18th February on PS4 and PS5.
I've got a soft spot for Horizon. Sometimes you need a big, glossy, fantasy world to escape to, and this sequel ought to be bigger and glossier than ever before - Sony and Guerrilla know there's an audience there now, so the argument for serious investment has already been made. Plus, this is a high profile exclusive for PlayStation, and it's always exciting to see what a first-party studio can do with new hardware. The only slight drawback is that Forbidden West is coming out on PlayStation 4 too, which I hope won't be a limiting factor in any way for the game on PS5. I have faith, though, and we don't have long - February 18th - to wait.
- Bertie
Kirby and the Forgotten Land
Due in the spring on Switch.
What if The Last of Us was really cute? The latest Kirby game promises to answer this question. Grass and trees sprout from buildings, buckled concrete holds glinting treasures, and simple, satisfying platforming promises to pull it all together. The effect of this trailer during a Nintendo showcase last year was wonderful - an odd game that promised to combine traditional elements in strange ways. And it looks chunky and beautiful too.
- Chris Donlan
The Legend of Zelda: Breath of the Wild 2
Due sometime in 2022 on Switch.
How do you top Breath of the Wild? We can only guess from the morsels Nintendo has provided so far - and even the game's title is being kept secret to avoid giving too much away. My hope, though, is Nintendo takes its winning formula and fully runs wild, free from the need to hand-hold and explain. High up in the sky, with landmasses placed wherever puzzles or exploration need them, Nintendo's designers can build a new Hyrule to discover even more imaginative, even more daring than the first.
- Tom Phillips
Little Cities VR
Due in the spring on Oculus platforms.
Oh wow. It turns out that a city builder that uses VR is every bit the beautiful idea that it sounds like. Hover above your own personal landscape, swipe to zone with a flick of the finger, and then prod skyscrapers and offices and hospitals into existence one at a time. Best yet, once the whole thing's working you can just move between your own buildings like it's The Hudsucker Proxy. Clear art and bright colours only sell the dream further. Looks super.
- Chris Donlan
Mario + Rabbids: Sparks of Hope
Due sometime in 2022 on Switch.
2022 needs a new Mario Rabbids game, and I cannot wait for it. What a joyous surprise the original was - a truly marvelous creation from a team who perfectly understood how to blend the slapstick humour of Ubisoft's creations with the world of Mario, and somehow turn both, via an alchemical level of talent, into a brilliant turn-based strategy effort. This follow-up promises freer levels and real-time elements to the mix.
- Tom Phillips
Marvel's Midnight Suns
Due in the second half of 2022 on PS4/5, Xbox Series S/X, Xbox One, Switch, and PC.
Marvel in the hands of the people who brought you the recent XCOM games? This looks as tactical and satisfying as you might expect, but also a little weirder too. Set in the darkest corners of the Marvel universe, you play as a customisable hero facing off against baddies with some of comic books' most familiar faces on your side. In between battles you knock around a large hub, uncovering secrets and chatting to other superheroes. A fascinating prospect, all told.
- Chris Donlan
Metal: Hellsinger
Due sometime in 2022 on PC, Xbox Series S/X, and PS5.
What if you slayed to the beat? I know you accidentally end up doing this in games like Doom as metal rages in your ears, but what if shooting in time to the music was actually baked into the mechanics? That's what Metal: Hellsinger is, a sort of mash-up between shooters and rhythm action games, and unique because of it. It's the opposite of timid, comes from good stock in designer David Goldfarb, and it boasts a meaty metal soundtrack all of its own. Get ready to mosh.
- Bertie
Moss: Book 2
Due in the spring on PlayStation VR.
The delightfully animated warrior-mouse Quill is back this year for the second chapter of her VR adventures in Moss: Book 2. Continuing from where the first game left off, expect to once again be accompanying Quill through gorgeous, Studio Ghibli-esq dioramas that are full of dangerous enemies and challenging puzzles. Oh and there's also a giant winged tyrant to defeat this time, but I'm sure that'll be no problem for our tiny hero as where there's a Quill, there's a way.
- Ian Higton
Nightingale
A release date is yet to be announced, but players will be invited to try the game on PC this year.
Demons, dinosaur-things, Victorians? There seems to be something in Nightingale to confuse everybody. This is a survival and crafting game with a focus on combat, by the looks of things. Tool up, find friends, and take on massive beasts in this gaslit fantasy oddity. Nightingale made a big impact the last year's Game Awards, a blend of the familiar and the unusual. One to keep an eye on.
- Chris Donlan
OlliOlli World
Due 8th February on PC, PS5/PS4, Xbox Series S/X, and Switch.
The OlliOlli skating games head into three dimensions - sort of - with this colourful and pleasantly goofy game. Adventure Time is the obvious influence, but the most intoxicating thing about the recent trailer is seeing how the series' precision and flair has survived the transition to semi-3D and levels that contain multiple paths. 2022 looks to be a good year for colourful skating games, then, and this one will be hard to beat.
- Chris Donlan
Oxenfree 2: Lost Signals
Due sometime in 2022 on PC, PS5/PS4, and Switch.
The first Oxenfree is a must for lovers of narrative-focused games, but not necessarily an obvious contender for a sequel. All the more interesting then that Oxenfree 2 is a follow-up from a distinctly different perspective. Riley is a classic Night School protagonist - snarky and a bit lost, just the way fans love them. Her taking up arms against cultists and vengeful ghosts is hopefully going to shed more light on past events, which is exciting, but the promise of a bigger island, more people to talk to and more possible outcomes is both ambitious and intriguing - not just more Oxenfree, but more Oxenfree.
- Malindy Hetfeld
Pokémon Legends Arceus
Due 28th January on Switch.
I'm probably too excited for Pokémon Legends: Arceus, especially since I've been burnt by spin-off Pokémon games before (looking at you Detective Pikachu). Yet I can't stop my Pokémon loving heart from counting down the days till this game is released. How could I resist roaming the Hisui region for Pokémon which can finally attack you and not just the poor creatures you use as a shield? Pokémon Legends: Arceus also looks like it's full of new, hopefully, disturbing in places, Pokémon lore and you can choose Cyndaquil as your starter Pokémon - the little fire mouse is one of my favourite Pokémon.
I'm definitely too excited...
- Lottie Lynn
Redfall
Due in the summer on PC, Xbox Series S/X, and it will be on Game Pass.
Redfall looks pretty wonderful. Horrific science experiments have overtaken a small Massachusetts town, so choose one of a handful of quirky death-dealers and get stuck in, in single-player or co-op style. This is Arkane developing, so there's a classiness to the goofball splatter. Violent, colourful and moreish, this seems like videogame fun of the very highest order. Look at the classes, m8! You can choose to be a cryptozoologist and inventor or someone who knows telekinesis!!
- Chris Donlan
Saturnalia
Coming soon to the Epic Games Store.
Santa Ragione is one of the ómost interesting studios in the world, and the Italian team is joining forces with board game outfit Horrible Guild for this fascinating horror story set in a cramped Sardinian town that's prey to strange forces. The sketched-in art style is the obvious draw, but the real pleasure here is one of watching game design's most restless creatives taking on a new blend of genres and influences. This looks stunning.
- Chris Donlan
Sea of Stars
Due sometime in 2022 on PC and Switch.
From the team behind the brilliant retro-themed action game The Messenger comes Sea of Stars. This is a turn-based RPG with its eyes fixed firmly on the classics: gather a party, explore, and fight masses of enemies. What marks it out is truly magical pixelart, delicate and light-rimmed, capable of conjuring dense mountaintop cities or sunken grottoes. What a beautiful thing.
- Chris Donlan
Sephonie
Due early in 2022 on PC.
The new game from the megaminds behind the generation-splicing Anodyne 2 is a dreamy but purposeful spelunking sim, like Tomb Raider meets Tony Hawk, with wall-runs, double-jumps and bounce pads guiding you ever deeper into an island cave system rich with (mostly unthreatening) nonhuman life. Three marooned scientists from the US, Japan and Taiwan must get to the bottom of it all, adding species to a database using an immediately addictive grid puzzling interface that calls to mind Anodyne's 2D dungeons. Along the way they must confront their own memories, given tangible form by an eldritch underground intelligence. I am all agog.
- Edwin Evans Thirlwell
Sifu
Due 8th February on PC and PS4/PS5.
The team behind Absolver seem pretty excited about Sifu, a martial arts revenge story that promises depth and complexity in its fighting system. The whole thing's beautiful, too, with distinctive characters and fantastic animation! Kick, punch and use improvised weapons and you blast through encounters, and then level up your powers and unlock your skill tree. This is a game made with care and class, by the looks of things.
- Chris Donlan
Somerville
Due sometime in 2022 on PC, Xbox consoles, and it will be on Game Pass.
What is Somerville? No, seriously, what is it?! After the E3 trailer I thought it was a simple, if undoubtedly atmospheric post-apocalyptic adventure. Following the Game Awards trailer, there are now aliens. I love how developer Jumpship can get away with essentially telling us nothing, and just presents us with a smorgasbord of moods, beautiful imagery, moments of excitement and fear and loneliness. Games don't often get away with being -yes, I'm saying the word - cinematic like that without explaining in simple terms what you can expect of them. I'm enjoying the rush of obliviousness until we get to experience Somerville for ourselves. - Malindy Hetfeld
- Malindy Hetfeld
Shredders
Due February on Xbox Series S/X and it will be on Game Pass.
Oh gosh, Shredders looks wonderful. Who doesn't fancy the prospect of a lovely snowboarding game, with the promise of rushing wind, fresh pine, and miles and miles of glorious snow? Shredders seems to have all the tricks and grinds you could want, along with a proper sense of forward momentum, and a lovely kind of weight to it. These winter sports games are often the most transporting, and this looks like a perfect place to spend some time this year.
- Chris Donlan
Splatoon 3
Due sometime in 2022 on Switch.
Is that a grappling hook? Is that an underground city? Is that some sort of crossbow? Splatoon 3 is going to rule, isn't it? A sequel to one of those special games that never leaves the Switch's home screen, this promises new arenas, new weapons, a new single-player campaign and a new hub. Goodbye Inkopolis! But it also promises continuity - a return to one of the most satisfying multiplayer games around. Very exciting, basically.
- Chris Donlan
Starfield
Due 11th November on PC, Xbox Series S/X, and it will be on Game Pass.
There will be no dodging the hype of Starfield as it approaches launch this November. Not only is it from the Fallout and Elder Scrolls studio, which inherently makes it A Big Deal, but it's the team's first new IP - new universe - in bloody ages. On top of that, it's the studio's first Microsoft game as a Microsoft studio, which means it's not coming to PlayStation maybe ever. What drama. And beneath it all, a question: Will it be any good? The chances are "yes", but how good? Expect its approach to be deafening.
- Bertie
Star Trek: Resurgence
Due in the spring on PC, PS5/PS4, and Xbox Series S/X.
Star Trek has been waiting for video games to catch up, I think. This isn't a straight up blaster or even a fancy game of naval combat set amongst the stars. Rather it's a narrative adventure that promises all the richness in character and surprising philosophical depth of a classic Trek episode. Explore the cosmos, meet interesting people, and maybe don't shoot them for a change? Okay then.
- Chris Donlan
Stray
Due early 2022 on PC and PS5/PS4.
I don't know if it's a cat-owner thing, but the pull of being a cat in Stray I find irresistible. Those cute little paws! The little noises they make when they jump for ledges! The way they push objects off ledges! They're adorable. And actually, they're perfect vessels for exploration. They're lithe and able to get to all sorts of places we can't, or at least not easily. And it's that refreshing allure of experiencing a world differently that makes Stray so exciting. It helps that it seems to be very stylishly put together, of course, and takes place in an intriguing post-apocalyptic world of humanoid robots. So yes, I'm excited - so excited I may spray.
- Bertie
Terra Nil
Coming soon to PC.
For decades, building strategy equalled colonisation - landing somewhere to transform the land to serve the needs of pesky pixelated humans. But what if our job was to clean up after ourselves? Terra Nil tasks players with revitalising barren landscapes, and it's satisfyingly challenging to learn the functions and limitations of its futuristic machinery. From the Steam demo, it feels like a great mix of elements from both the city- and factory-building genres, a game designed to embody exactly the kind of hopefulness and creativity we need in order to preserve our planet going forward. - Malindy Hetfeld
- Malindy Hetfeld
Thirsty Suitors
Coming soon to PC (other platforms may be yet to be announced).
Jala needs to mend relationships with her exes, handle her parents and sort things out with her friends before the arrival of the family matriarch. That's a lot to take on, and it unfolds in a frenzy of gorgeously clashing game styles: skateboarding, turn-based battling, and cooking, based on sumptuous South Asian inspired dishes. Thirsty Suitors was hands down the best reason to sit through last year's Game Awards. An adventure through culture, relationships and family pressures. It is going to be fabulous.
- Chris Donlan
Triangle Strategy
Due 4th March on Switch.
We need more turn-based tactics games, don't we? Well 2022 could be quite a year. Not only do we get Advance Wars back on the Switch, but the people behind Bravely Default and Octopath Traveler are offering Triangle Strategy. Yes, that is one of the best game titles ever, and the game itself looks rather lush too: positioning matters, of course, and certain attacks may affect the landscape of the battle in interesting, and perhaps useful, ways. SET FIRE TO STUFF!
- Chris Donlan
We Are OFK
Due sometime in 2022 on PC and PS5/PS4.
Why don't more games focus on music - not just the way it's made but the way it can transform your inner world? We Are OFK bills itself as an interactive EP - the gloriously soapy story of a young band coming together and getting by in the big city. LA has rarely looked as beautiful as it does here, a gentle mass of pastel colours and blinking lights. And the story promises lovely observational writing and glittery sugar pop.
- Chris Donlan
Timemelters
Aiming for an April 2022 release on PC.
Timemelters - formerly Wicca - is still the most exciting prospect. A real-time tactics tower-defence game with time loops and magic spells and the ability to knit distant points on the map together and conjure vast monsters. This would be a brilliant pitch even if it wasn't also the spiritual successor to Sang-Froid: Tales of Werewolves. But it is! Cannot wait.
- Chris Donlan
Tunic
Due 16th March on PC, Xbox Series S/X, and Xbox One.
It's top-down Zelda, but you're a fox. That's a good enough pitch by itself, but look at the art, with its plump, pointed trees, its glorious reflected sunlight, its grass and water and dusty earth beckoning you forward and on to adventure. A demo from a while back suggested a game that is precise and imaginative as well as being an elegant throwback to the best of gaming's past. Very exciting.
- Chris Donlan
Venba
Due sometime in 2022 on PC.
Venba cannot come soon enough. This is a narrative cooking game - the best genre - in which you play an Indian mum who has recently arrived in Canada. Cook dishes, discover lost recipes, and travel deep into a story of loss and love. Family, tradition, and the challenges of 1980s life all combine, and we cannot wait.
- Chris Donlan
Zenith: The Last City
Due sometime in 2022 on PSVR, Oculus headsets, and Steam VR.
One genre that's been massively overlooked in the world of VR so far is the MMO but this year's ambitious RPG Zenith: The Last City looks set to fill that gap. It's heavily inspired by Sword Art Online and also Breath of the Wild too, so expect to be using full motion controls to climb and fly around its huge open world - when you're not using them to physically defeat your enemies that is. And of course, because this is an MMO, that means you'll be able to do all of this adventuring with your friends by your side.
- Ian Higton