The Culling rises from the dead a second time with new pay-per-play monetisation model
Buy match tokens or unlimited access packs.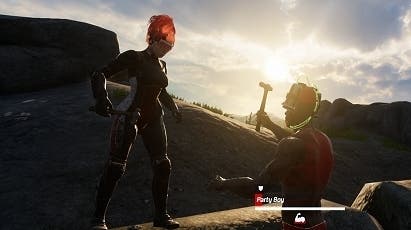 Beleaguered battle royale game The Culling has risen from the dead once more - despite apparently being canned for good last March - this time sporting a monetisation model that will require users to pay for the matches they want to play.
The Culling, a survival-themed last-man-standing affair from developer Xaviant, launched on PC and Xbox in October 2017 following a period of early access. Its distinctive take on the battle royale formula - incorporating scavenging, crafting, and trap-making - immediately earned it fans, but its post-launch fortunes were short-lived and a rapidly dwindling player base (caused in no small part by the meteoric rise of PUBG) saw Xaviant ending support mere months later.
Six months after that, Xaviant surprised dropped The Culling 2 on the world, and immediately felt the full force of a backlash from fans upset the developer had turned its attention to a sequel a little over nine months after its predecessor left Steam early access. Less that 48 hours after launch - which, in another case of unfortunate timing, coincided with the arrival of Fortnite's fifth season - The Culling 2's active userbase had plummeted to single digits.
Mere weeks later, The Culling 2 was officially dead and Xaviant made the decision to resurrect the corpse of its predecessor, only this time as a free-to-play title.
And although The Culling's second turn in the spotlight was markedly more successful than Xaviant's initial failed release, it still didn't draw in the crowds required to keep the game afloat - and the developer pulled the plug on the game a second time, seemingly for good, in March last year. And there, it seemed, the story ended.
But not so fast! Now, Xaviant has announced that The Culling will return to Xbox One this Thursday, 14th May, for its third attempt at success, and while the core battle royale experience remains the same, the new version features improved visuals and AI, plus a completely overhauled - and somewhat eyebrow-raising - pay-per-play monetisation model.
New players will initially be expected to pay $4.99 USD, which will grant them a one day trial period. Should they wish to continue playing after that, they'll need to spend match tokens for anything beyond a single free match per day. Match tokens can be earned by winning an online match, but Xaviant will also be offering them in packs purchasable with real money.
Packs start at $.99USD for three match tokens and go up to $4.99 for 20 tokens. Alternatively, players can choose to purchase seven days unlimited access for $1.99 or 30 days for $5.99, roughly equivalent to $70 (just shy of £60) for a year. The loot crates seen in The Culling's previous free-to-play iteration will, however, be dropped.
It's certainly a bold monetisation approach in a battle royale market dominated by free-to-play juggernaut offerings such as Fortnite, Call of Duty: Warzone, and Apex Legends, but Xaviant says it has spent "a great deal of effort" streamlining its backend systems to reduce costs and improve efficiency so that it can "keep the game alive indefinitely". A PC version of the new-look Culling will launch at a later date.