The Culling dev returns to original game after The Culling 2 disaster
"... we're not ready to throw in the towel."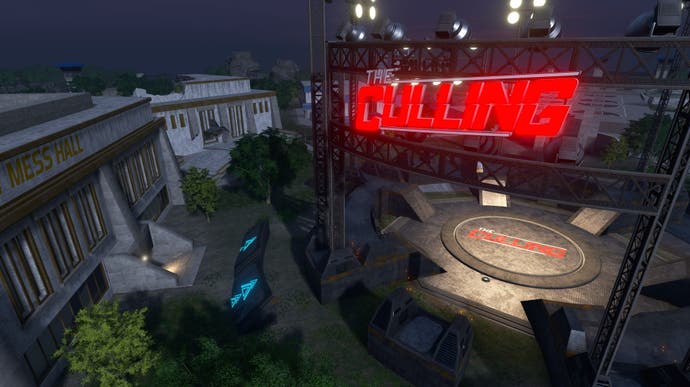 The developer of battle royale game The Culling has re-released the first build of the original game following the disastrous launch of its sequel.
The Culling 2 released on Tuesday, July 10th, and was immediately besieged by series fans upset that developer Xaviant had turned its attention to a sequel a little over nine months after its generally well-received predecessor left Steam early access.
Its poor reception was reflected by its active user base. Mere hours after The Culling 2 released, users playing the game peaked at 249. It wasn't long before The Culling 2 had an average of just two players online - some considerable way below the 50 required for a single match. By way of contrast, the original Culling has an all-time peak of 12,622 active users.
In response, Xaviant pulled The Culling 2 from sale, and now it's released the day one build of The Culling, which came out in March 2016. Existing owners of The Culling get this build of the game free on a test server, but you can also get it by buying the game, which currently costs £4.79.
Xaviant has also returned to development of The Culling. "Our mission is to rebuild our relationship with you and regain your trust," the developer said in a post on Steam.
The day one build of The Culling will remain live on the test servers as Xaviant works on the main version of The Culling. "As we move forward in development, this build will remain live to serve as an ongoing reference point to keep us from losing our way," Xaviant said.
The goal is to relaunch the latest version of The Culling to include all of the gameplay elements of the original version. "Think of it as a modern remaster that is as true to the original as it can be, but still retains all of the bug fixes and optimisations," the developer said.
Currently, The Culling: Day 1 Reference is limited to PC only and North American servers, but Xaviant expects it to launch in Europe very soon. When the mainline version of The Culling relaunches it will be free-to-play, Xaviant said.
"We want you to have plenty of friends to play with (read: murder) on the island and we think F2P is the best way to lure fresh meat to the servers," Xaviant said.
"We need to do more work before we can provide a timeline or even predict what form it will take, but we will announce our relaunch date as soon as possible."
Xaviant concluded by admitting it had made a "serious mistake" as a studio with the release of The Culling 2, "but we're not ready to throw in the towel."