Tetris 99's next limited-time event celebrates Pokémon Sword and Shield
Starts next Friday.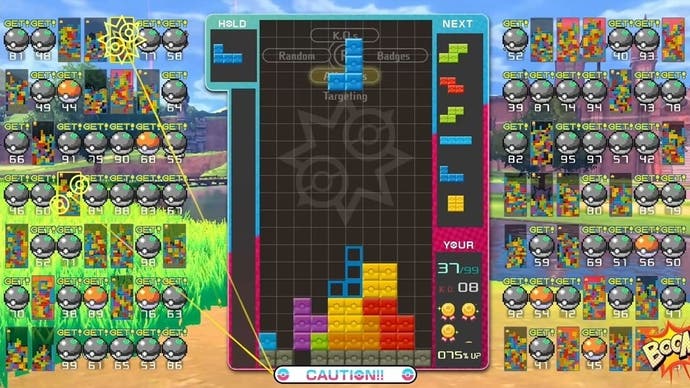 Nintendo's blockbusting battle royale effort Tetris 99 is preparing to launch another limited-time event in the spirit of cross-promotional marketing camaraderie, this time with a nod to Switch's upcoming Pokémon Sword and Shield.
As with previous limited-time crossovers, which have included the likes of Fire Emblem and Luigi's Mansion 3, Nintendo's Pokemon offering will temporarily re-theme the Tetris 99 battle royale experience, adding new match music and switching out the usual background for a serene shot of Sword and Shield's Galar region.
Additionally, fellow combatants will be represented as Pokemon, captured within a Pokéball in defeat - all of which you can see in the event reveal video below.
Nintendo says that players will be able to acquire the theme for keeps by meeting certain requirements during the event - likely by earning a set number of points through play if it follows the same formula as previous efforts.
Tetris 99's Pokémon-themed limited-time event is the game's ninth Maximus Cup (as Nintendo likes to call these things), and will run from Friday, 8th November until Tuesday, 12th November - just a scant few days ahead of Pokémon Sword and Shield's 15th November launch on Switch.