Super Mario All-Stars heading to Tetris 99 this weekend in latest Grand Prix event
New theme unlockable until early next week.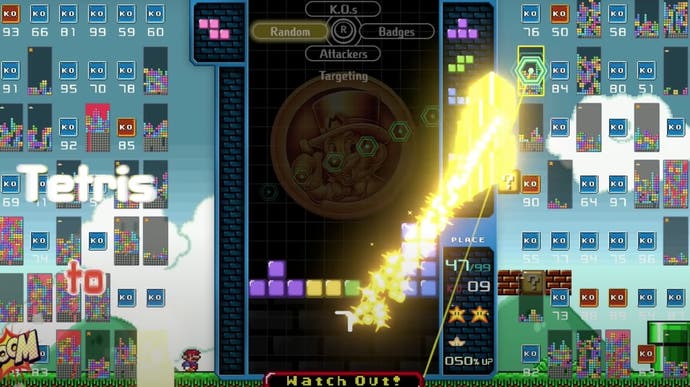 If your battle-royale-infused block-spinning still isn't Mario enough for your tastes, there's a chance to unlock a new Super Mario All-Stars theme for Switch's Tetris 99 this weekend, as part of Nintendo's latest limited-time Grand Prix event.
Surprisingly, Super Mario All-Stars' inclusion marks only the second Mario crossover for Tetris 99 - a Super Mario Bros theme can be unlocked with in-game currency - and those wishing to add the new theme to their collection can do so starting from 7am this Friday, 4th December.
The event - part of Nintendo's ongoing celebrations marking Super Mario Bros' 35th anniversary - is the 18th Grand Prix to be held in Tetris 99 since its launch back in February last year, and will continue until 6.59pm on Tuesday, 8th December.
Usual rules apply for this latest event, meaning players will be awarded points each round based on their position at the time of defeat, and those managing to accumulate a total of 100 points will receive the Super Mario All-Stars theme for use in Tetris 99 permanently.
Super Mario All-Stars is, of course, available to download and play as part of Nintendo's Switch Online subscription service. The 1993 SNES compilation is a lovely thing too, giving the original Super Mario Bros, Super Mario Bros 3, and the two wildly divergent versions of Super Mario Bros 2, a wonderfully lavish makeover - exactly in the way that Nintendo didn't with this year's underwhelming Super Mario 3D All-Stars release.