Tetris 99 gives second chance to unlock three limited-time Nintendo themes from next week
Animal Crossing, Luigi's Mansion, Ring Fit return.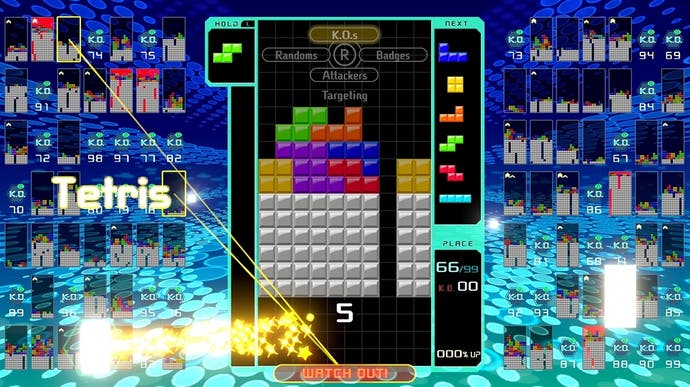 If you've managed to miss any of Tetris 99's sporadic limited-time Grand Prix events since its launch last year - meaning you'll have missed out on some of the game's event-exclusive theme unlocks - Nintendo has some good news; it'll be offering a second chance to score three previous limited-time themes as part of a special week-long event.
Nintendo has given its latest event the entirely appropriate name of Tetris 99 Grand Prix Throwback Themes (or the Maximus Cup Second Chance Edition if you're not in Europe), and proceedings get underway next Friday.
From 14th August at 8am until 7.59am on 17th August, there's a chance to secure the Animal Crossing: New Horizons theme, and it's possible to snag a Luigi's Mansion 3 theme from 8am on Monday, 17th August, until 7.59am on Wednesday, 20th August.
Finally, Tetris 99's Ring Fit Adventure theme gets another airing from Thursday, 20th August, until 23rd August. And if you prefer Pacific Time, check out the infographic thingy below.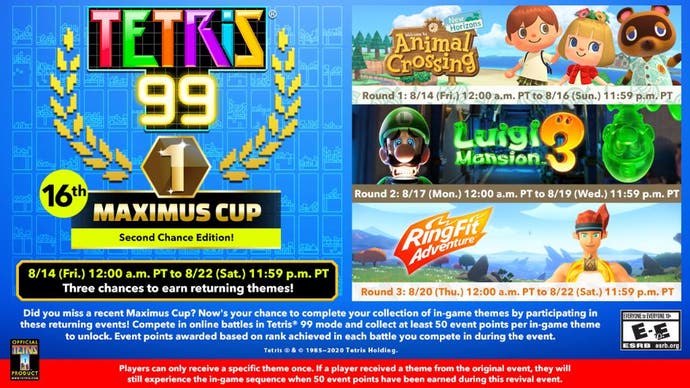 It's worth noting that Nintendo has switched the rules up a little for its Throwback Themes event. Rather than requiring players to secure 100 points through concerted multiplayer efforts in order to unlock a particular theme, the grind has been lowered so that only 50 points are required during each theme's availability window. Points, however, will continue to be awarded based on the rank reached during competitive online battles.