Star Wars Battlefront 2 reveals first footage of space battles
UPDATE: Full trailer released.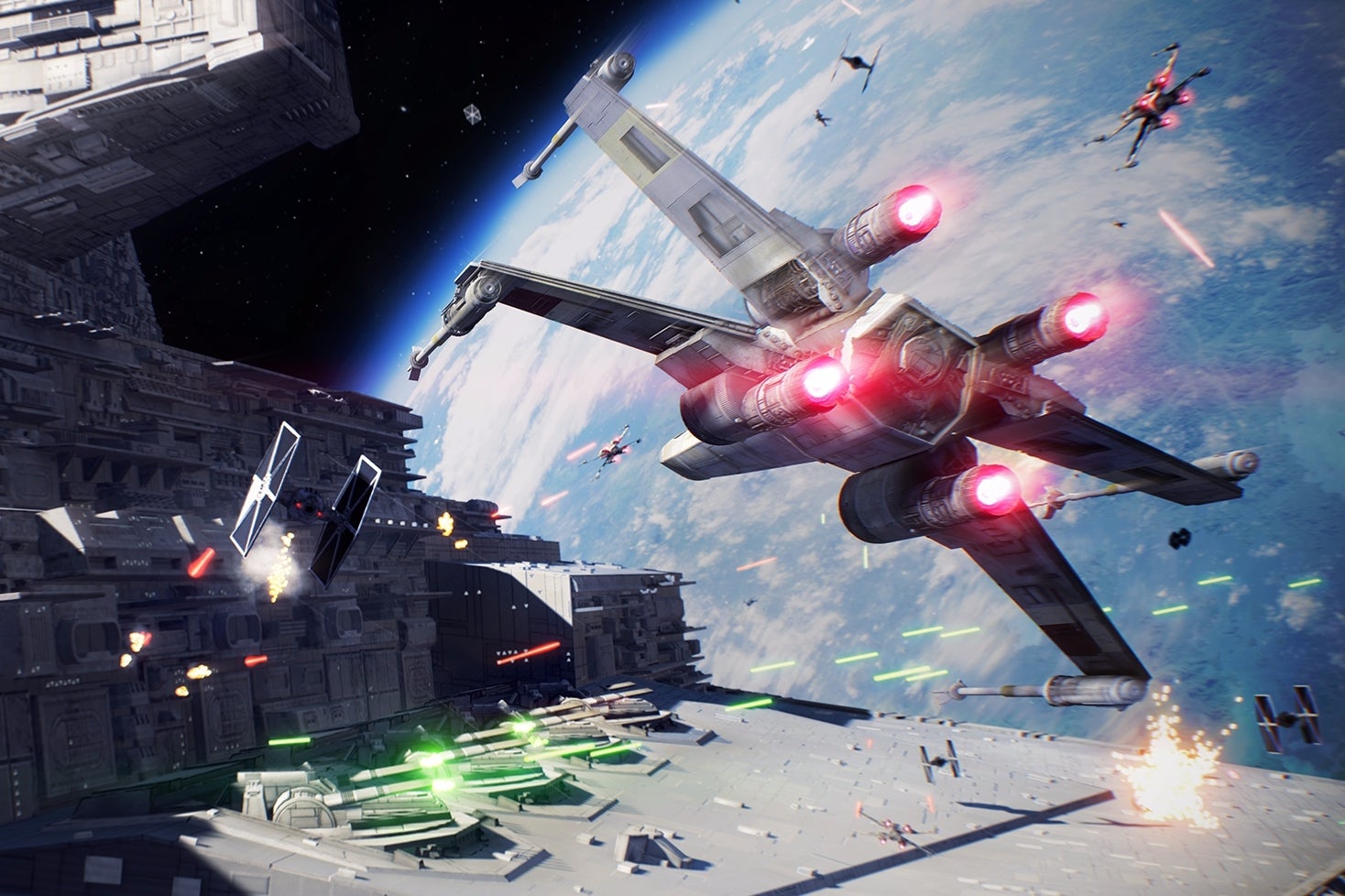 UPDATE 21ST AUGUST: We missed this but EA has since published the fuller, longer space battles trailer for Star Wars Battlefront 2, so now you don't have to squint.
The Starfighter Assault gameplay trailer shows us space battles on various maps: in The Unknown Regions, which sound rude, where there's a "resurgent" star destroyer; above Endor, where there's a load of Death Star debris; on Fondor, where there's an Imperial shipyard; on Ryloth, where there's a Lucrehulk battleship; and on Kamino, where there's a research facility.
Along the way we get a look at Hero/Villain ships flown by Darth Vader, Darth Maul and Yoda. We glimpse Slave I and the Millennium Falcon too, plus lots of new regular ship types. Looks great - but how closely does it represent the game we will play this autumn?
ORIGINAL STORY 19TH AUGUST: Star Wars Battlefront 2's space battles have been shown for the first time in a leaked promo.
As you can see, aerial battles will be set in both deep space and along the surface of many planets. Unfortunately this isn't actual gameplay footage, but rather simply in-engine. Still, it should capture the general look of Battlefront 2's dogfighting. It also has Yoda unleashing his hidden power as a badass fighter pilot.
Space battles are being developed by Criterion, the Burnout developer that put together Battlefront's Rogue One VR mission - something our Martin Robinson called "the best demo for VR yet."
This sequel will encapsulate all eras of the Star Wars universe, and unlike the first Star Wars Battlefront, this will have a complete story campaign.
Star Wars: Battlefront will launch 17th November on PS4, Xbox One, and PC. Those who buy the Elite Trooper Deluxe Edition will get three day early access to the sprawling shooter.
In the meantime, an open beta will run from 6-9th October on all platforms.