Among Us and Fall Guys collide in this bizarre Star Wars Battlefront 2 mod
Damn imps.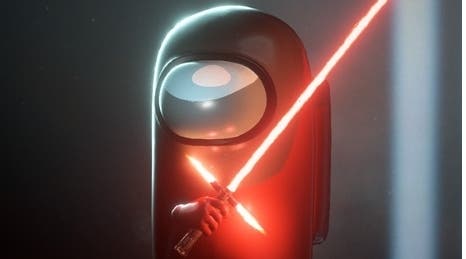 We've already seen some fairly creepy content based on Fall Guys (I'm still trying to forget the bean anatomy shared by the official Twitter account), and now there's even more. This time it takes the form of some suspiciously long legs, and some familiar crewmates are joining in on the action, as someone's made a Star Wars Battlefront 2 PC mod combining both Among Us and Fall Guys.
Made by TigerVenom22 and ToastedShoes, the mod replaces all original trilogy-era infantry with Fall Guys characters on the light side, and Among Us characters on the dark. Makes sense given a selection of the crewmates are basically eldritch horrors. They're capable of wielding lightsabers or using Force lightning (on the dark side at least), while the Fall Guys beans come with a range of costumes - one of which has Rowan Atkinson's face. I think there might be a joke there somewhere. My personal favourite is the extremely tall General Grievous Among Us crewmate with four floating lightsabers.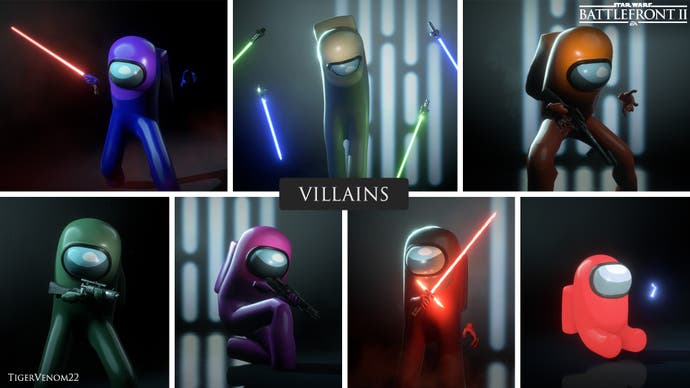 Why? I hear you ask. It's a good question - and one I can't entirely answer - but it seems the mod was commissioned by ToastedShoes, who made a video showcasing it on his YouTube channel about a month ago (a heads-up that there's some sponsored content in the footage). It seems to have been inspired by the sudden rise of Among Us which many attributed to the popularity of Fall Guys over the summer, and a perceived rivalry between the two party games. Although they seem to get along just fine on Twitter.
Just like Among Us and Fall Guys, it's more fun with friends, and the mod was published on Nexus Mods earlier today for all to enjoy. The download includes two mods, but you'll also need to download the Fall Guys Hero Overhaul mod by NoTengoTortuga for all those beautiful beans.