Among Us 2 cancelled as devs focus on original title
Will not spaceship.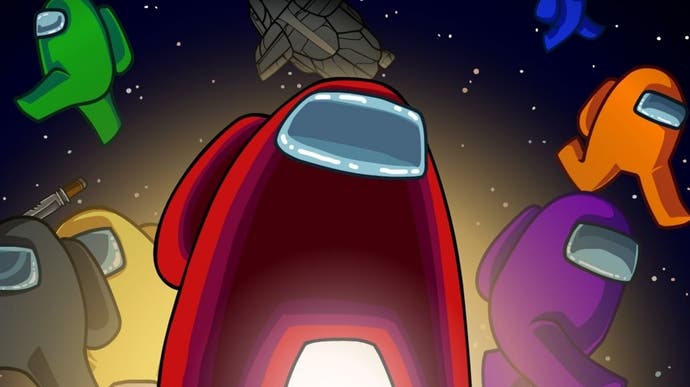 Despite first releasing back in 2018, social deduction game Among Us has recently seen a huge surge in popularity, with Steam concurrents increasing from a peak of 271 players in January to 388k in the last 30 days. According to developer Innersloth, the party game recently hit a concurrent player count of 1.5m across all platforms - so perhaps it's little surprise that the devs no longer want to divide the player base with a sequel.
As explained via a blog post, developer Innersloth had plenty of internal debates over the future of Among Us, particularly given the original game's codebase is outdated and not built to support new content. Due to the influx of new players, however, the team decided to focus all their efforts on supporting the current game and "tak[ing] it to the next level", and so Among Us 2 has been cancelled.
"All of the content we had planned for Among Us 2 will instead go into Among Us 1," Innersloth said. "This is probably the more difficult choice because it means going deep into the core code of the game and reworking several parts of it.
"We have lots of things planned and we're excited to bring new content to everyone as you continue to enjoy playing!"
Current players can (hopefully) expect to see some improvements to the Among Us servers, as Innersloth is working hard to figure out some of the existing issues. Colourblind support is also inbound, something the team said it had put off "for far too long", and is probably a much-needed addition given so much of the game is based on player colours.
On top of this, there are plans in place for a friends and account system (which may take some time to develop), along with a brand new stage themed around Henry Stickmin - another series published by Innersloth.
*Long* thread inbound, will QRT with a tl;dr:
First of all, thanks again to everyone playing Among Us. This remains a totally wild experience that we're extremely thankful for.

But let's talk about servers:
This is a graph of the last 72 hours of Among Us players. (Times in PST) pic.twitter.com/GP3FD0VVCJ

— Forest (@forte_bass) September 5, 2020
So, at this point you may be asking - why the sudden increase in interest? The main reason appears to be that several content creators (such as Sodapoppin, CallMeCarson and Pokimane) suddenly started playing Among Us on Twitch earlier this summer, exposing the game to a large audience. Innersloth's most recent release, The Henry Stickmin Collection, was also launched back in August, drawing more attention to the studio's work. With the cancellation of Among Us 2, I guess the team will once again be stick-ing to the stuff they know.