Sony confirms PlayStation 4 Killzone, Camera, second DualShock bundle for UK
UPDATE: Asda selling it for £439 - £10 more than an Xbox One.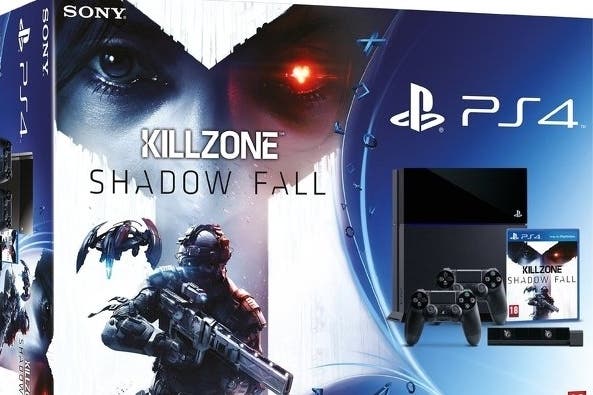 UPDATE 5: Asda is selling the PS4 Mega bundle for an attractive £439 - that's just £10 more than an Xbox One.
The PS4 Mega bundle includes a PS4, Killzone: Shadow Fall, two DualShock 4 controllers and the PlayStation Camera.
There's a catch, though. As an Asda employee who notified Eurogamer of the offer this afternoon pointed out, the bundle is only available to those who pre-ordered the console before 5th August and use a code, which will be sent out soon.
Asda is selling all three official PS4 bundles: PS4 with Watch Dogs, PS4 with Killzone (both £385 each), and the aforementioned Mega bundle. The 5th August pre-order cut-off applies to them all.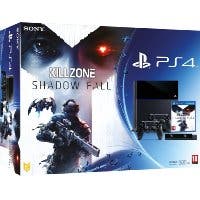 UPDATE 4: And now Amazon has begun emailing PS4 pre-order customers offering them the chance to upgrade to a range of bundles.
Customers are being contacted in the order in which they placed their PS4 pre-order and given a choice of the bundles, or they can keep their existing console order.
The cut-off date to take advantage of the upgrade offer is 16th October 2013. You can of course keep your existing order for the PS4.
Like other UK shops, Amazon is selling the PS4 "Mega Bundle", which includes a PS4, two DualShock 4 controllers, the PlayStation Camera and a copy of Killzone: Shadow Fall for £449. The available bundles are on Amazon.co.uk.
UPDATE 3: ShopTo has begun contacting PS4 pre-order customers offering them the chance to upgrade to the "Mega Bundle".
ShopTo is selling the bundle, which includes a PS4, Killzone: Shadow Fall, two DualShock controllers and the new PlayStation Camera, for £449.86, just a few pence cheaper than GAME.
"ShopTo is pleased to announce that we have started sending out e-mails to the lucky customers who are eligible to swap to the PS4 'Mega Bundle'," reads a statement on the ShopTo website. "So keep an eye on your inbox.
"If you don't receive an e-mail today all is not lost! We're sending in batches and more will become available as swap offers are rejected."
UPDATE 2: As Eurogamer revealed yesterday, retailers have begun alerting those who pre-ordered a PlayStation 4 about the new official bundle options that are available to them.
First off the bat is GAME. It's offering an upgrade to the PS4 mega bundle, which includes the console, Killzone Shadow Fall, a second DualShock 4 controller and the PlayStation Camera for £449.99 - that's £21 more expensive than an Xbox One.
Yesterday Sony UK boss Fergal Gara told Eurogamer he expected retailers to sell the bundle for £10 either side of Microsoft's Xbox One UK price, so GAME's offer comes in a little expensive.
Also available is a PS4 with Killzone bundle for £399.99, and a PS4 with Watch Dogs, also for £399.99. The PS4 on its own costs £349 in the UK.
We expect other retailers will update their customers in due course. If you receive an email about this, let us know in the comments below, and we'll add the various prices.
UPDATE 1: Sony has revealed new detail on its Killzone Shadow Fall PlayStation 4 bundle, which will actually be available in two different flavours.
You can get a PlayStation 4 console and physical copy of the game for €439 (roughly £369, final RRP TBA), as well as the PS4/Killzone/Camera/Extra DualShock 4 variant mentioned below, which will cost €499 (roughly £420).
Sony told Eurogamer earlier today at EGX 2013 that the bundle would be available for around a tenner either side of Xbox One's basic £429 offering.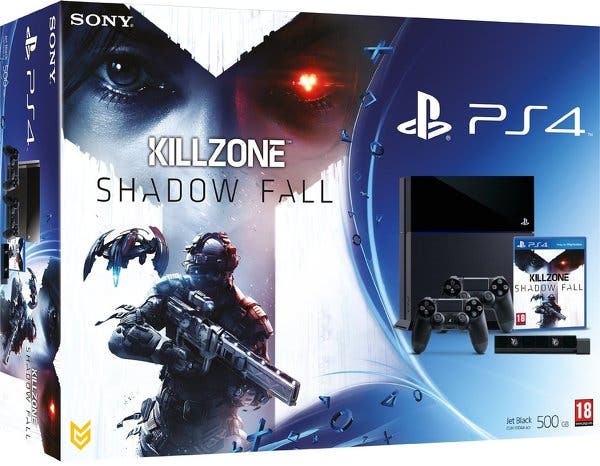 ORIGINAL STORY: Sony will release the eye-catching PlayStation 4 bundle leaked on Amazon last month in the UK, Eurogamer can exclusively reveal.
In August Amazon France listed a PS4 bundle that includes a number of extra items for the same price as Xbox One in Europe.
The bundle costs €499 - the same as Microsoft's European Xbox One price - which translates to around £427. In the UK the Xbox One costs £429.
Included in the box is a copy of PS4-exclusive launch title Killzone Shadow Fall, two DualShock 4 controllers and the PlayStation Camera. Internally Sony calls this the "mega bundle".
That's compared to Microsoft's offering, which includes FIFA 14 when you pre-order the bundle, Kinect and an Xbox One controller.
Bought separately, the bundle's contents would cost £503 when purchased together from Amazon at time of publication (£349 for the PS4 console, £55 for the PlayStation Camera, £54 for a second DualShock 4 and £45 for Killzone: Shadow Fall). That's roughly a £70 saving.
"I can officially confirm that the answer is yes [Sony will bring the bundle to the UK]," Sony UK boss Fergal Gara told Eurogamer today at the Eurogamer Expo.
"It'll be similarly benchmarked in euro equivalent. PlayStation 4 is £349 and €399, so it will be the same equivalent.
"It will be no more than a tenner either way [of the Xbox One £429 UK price] depending on what conversation rate we use on the given day."
Sony will announce several new PS4 bundles tomorrow, Eurogamer understands. The company has told UK retailers to alert those who have pre-ordered PS4 that they now have the option to upgrade to one of these.
"It [the mega bundle] is in limited volume, and therefore it is probably going to go mainly to current pre-order customers, then follow-up volume may well be post-Christmas," Gara added.
"But there are other bundles that also represent incredibly good value. It's not just about having a good base price. We want to offer value in every way we can.
"Starting yesterday, our retail partners are contacting their pre-order customers in order, so starting with the first, working up to when they run out of that special bundle, saying, we now have clarity on exactly what PlayStation 4 bundles we have to offer for day one. Would you like option A, B, C or D?
"Everybody who has pre-ordered in the expectation they're getting just the PS4, including the DualShock 4 and the headset - the basic configuration. But as we've worked through the details and worked through the options we've come up with some great bundle offers. And it is only fair the first people in the queue get first chance to get that.
"It's a brilliant thing to do for the gamer. In theory there could be some free on day one, but I think it's unlikely, because the people in that queue are going to say yes please."