Sea of Thieves pirates can unlock a fancy Battletoads ship set from tomorrow
And a season of summer events is now underway.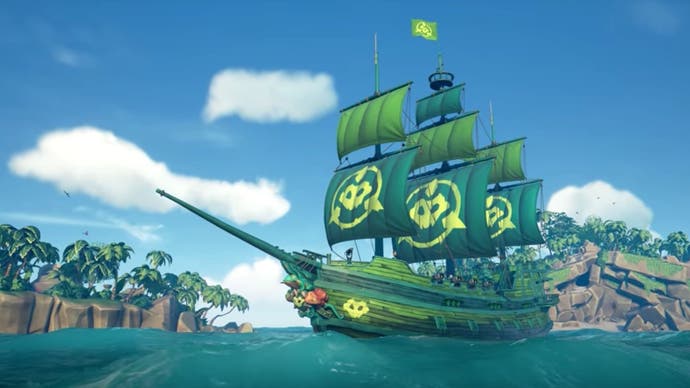 Sea of Thieves' August is slightly more low-key than usual thanks to a few coronavirus-related wrinkles, but there're still a few notable opportunities incoming - including a season of summer events with handsome rewards and a new ship set inspired by classic Rare brawler Battletoads - which can be acquired from tomorrow with a little bit of effort.
Those eager to secure some retro flair for their vessels will need to start by acquiring a copy of developer Dlala Studios' brash new Battletoads reboot, which is out tomorrow, 20th August, on Xbox One and PC. It's also available on Game Pass, meaning subscribers with a hankering for some mean, green livery already have an easy route in.
By completing Battletoads' first act "at any time", players will unlock the full Fightin' Frogs Ship Set for use in Sea of Thieves, consisting of six appropriately themed pieces: sails, hull, flag, cannons, wheel, and capstan. You can see how all that looks in the announcement video below.
As for Sea of Thieves' August update, which is out today, it's a little light on new features compared to previous offerings, instead focussing on bug fixes and quality of life improvements. Writing in a new blog post, executive producer Joe Neate explained, "As we came off the back of our July release, we had an opportunity to assess our planned set of features for August - and it quickly became apparent that everything was coming in a little hot."
"Since we started working from home," he continued, "we've definitely had to be a bit more flexible with our plans for each month, and as such we've decided to move our key planned features back to our September release."
Even so, Rare has put together a number of limited-time events to last until Sea of Thieves' next monthly update arrives. The first, known as Summer of Sea of Thieves, runs from today until 30th September and tasks pirates with completing a range of activities around the ocean in order to earn titles, cosmetics from the Courage Set, emotes, and currency rewards.
Hunters of the Deep, meanwhile, runs from 26th August to 8th September and asks players to collect Shark Teeth by defeating Megalodons, normal-sized sharks, and more. Doing so unlocks parts of the new Shrouded Ghost Ship Collection for free - but, should you miss out, it'll be available in the premium currency Pirate Emporium from next month.
That's still not quite everything though; Rare has also implemented two weekly events that will repeat into September. On Tuesdays, Ashen Expeditions bring double the usual rewards for those handing in Ashen Treasures, while Thursday's Wreck and Roll offers boosted rewards for all Shipwrecked items, as well as any Wrecker fish found in the depths.
Full details of this month's update can be found in Rare's latest patch notes.