Sea of Thieves kicks off new monthly content schedule with explosive limited-time event
Black Powder Stashes running until August.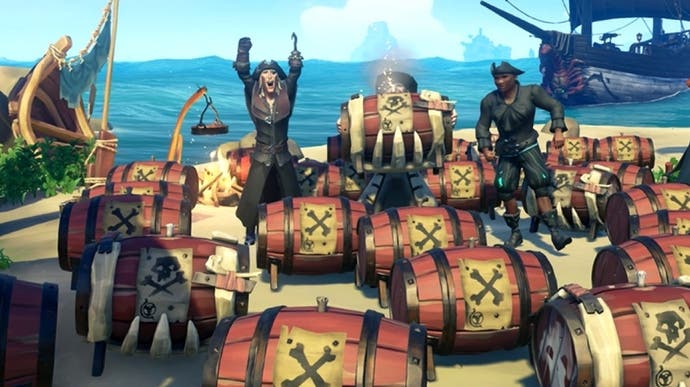 After something of an extended lull in regular updates, Sea of Thieves has launched a new limited-time event, Black Powder Stashes, marking the start of a new, and very welcome, monthly content delivery plan for developer Rare's multiplayer pirate adventure.
Black Powder Stashes - the first limited-time event to launch since Sea of Thieves' massive Anniversary Update in April - is available to play now and introduces new limited-time voyages, purchasable from Duke at any tavern using doubloons. There are six variants in total, each plotting a course for different locales, with two tougher challenges forcing multiple ships along the same routes. That could make for some particularly hairy encounters given that the goal of the event is to find, ferry around, and turn in, as many explosive barrels as possible.
Gunpowder and Stronghold Kegs can both be handed over to the Trading Companies of your choice to earn rewards in the form of their respective XP boosts - and Pirate Legends can even get Athena's Fortune reputation from the Mysterious Stranger.
Additionally, the limited-time event introduces new Mercenary Commendations, rewarding additional doubloons and new titles - plus the Inevitable Reaper Flag and Sails, and striking, scorpion-themed Mercenary Figurehead - to those that manage to complete their voyages.
Elsewhere, today's update scatters Mermaid Gems around the world - they can now spawn at vaults and in shipwrecks, and as kraken and megalodon drops, rather than just through Mermaid Statues - and introduces a frankly staggering list of bug fixes, game balances, accessibility improvements, and new features both large and small.
There are, for instance, new puzzle variants for existing Tall Tales missions, new behaviour patterns to make each megalodon type more distinctive, crew notifications, new interactive hatches on ships, and there's even a chance that bait can be found by digging in the world.
Black Powder Stashes will run until Wednesday, 14th August, whereupon Sea of Thieves' next monthly update arrives. According to executive producer Joe Neate, the studio will, from this point onward, adopt a new monthly content schedule, with each update bringing new things to do - whether that be new limited-time events, new Tall Tales, new Arena features, or other content additions - alongside the usual bug fixes, balances, and improvements.
It's a welcome attempt by Rare to re-establish a regular cadence of updates for Sea of Thieves - and to ensure that players always have something new to look forward to on the horizon - having struggled to maintain the live service's content momentum since the tail-end of last year.
August's update will be known as Dark Relics, with more information due closer to release.