Sea of Thieves is letting friends play free for a week, starting tomorrow
"Mega update" announcement teased for March.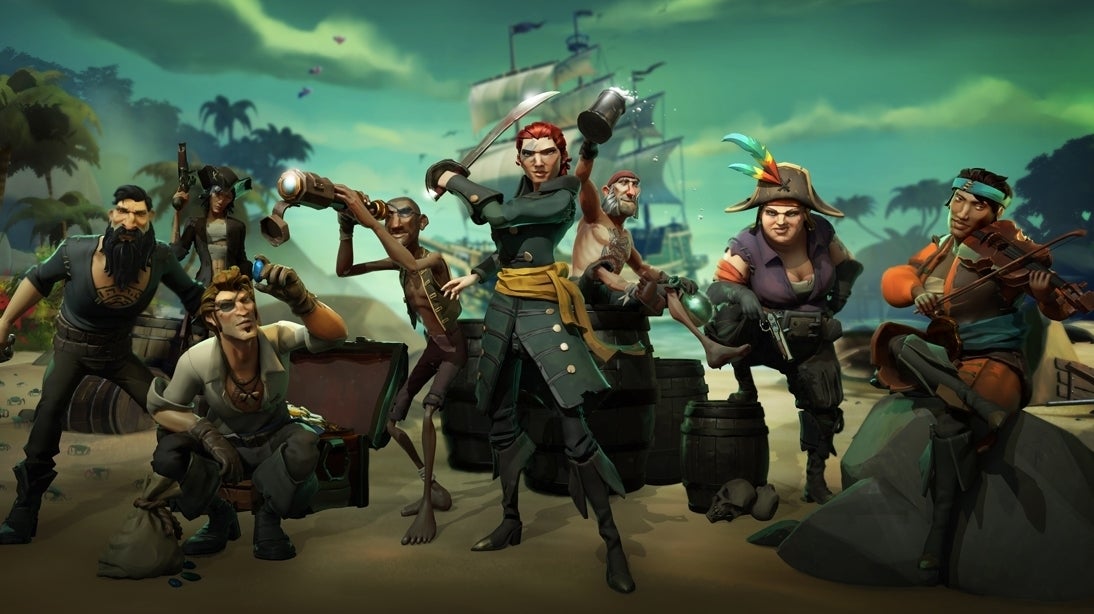 Rare has announced that, for a limited time, existing Sea of Thieves players can invite their friends to download and experience the piratical multiplayer adventure for free.
The promotion, which runs from tomorrow, February 6th, to February 13th, enables anyone that owns Sea of Thieves on Xbox One or PC, or that has played the game through a current Xbox Game Pass subscription, to acquire up to three free codes from the official website. Friends that receive these codes can, in turn, download and play the game (an Xbox Live membership is required on console, Microsoft notes) for the duration of the event. Additionally, players that redeem their codes can take advantage of a 35% discount on Sea of Thieves, on either PC or Xbox One, until February 27th.
To coincide with the Sea of Friends promotion (sadly not its official name), Rare will be implementing so-called Mercenary Voyages. These can be acquired by speaking with Duke at any outpost tavern and will, over time, introduce new gameplay twists that encourage different player behaviour. The first of these, available tomorrow, is described as an "essential mix of quintessential Sea of Thieves activities", and is designed to ease new players into the game.
In its official announcement, Rare says, "these special voyages will take you and your friends on an epic quest to find the treasure of the notorious Rum Runner. Crews who complete their voyage will be handsomely rewarded and will also be able to get their hands on special Mercenary cosmetics to act as lasting mementos of their grand adventure." That Mercenary livery, incidentally, is shown in the trailer above, and it's a beauty.
Mercenary Voyages will be introduced tomorrow, in Sea of Thieves' long-awaited first update of 2019. This also ushers in the initial wave of previously discussed combat changes, which include, according to executive producer Joe Neate, nerfs to the double-gun meta, reductions to the accuracy of hip fire, blunderbuss and sword play enhancements, and more.
It's also worth noting that tomorrow's update will require players to re-download the entire game. After the install, Sea of Thieves should take up considerably less hard-drive space, and updates will require much smaller downloads in the future.
Lastly for Sea of Thieves news, Rare has teased a big announcement for the game's first birthday on March 20th. This will apparently see the developer revealing a date and full details for its upcoming "mega update", gathering together a huge variety of work done across the studio. It will include the PvP-focussed Arena mode, pets, the previously teased quest overhaul (increasing the focus on lore and story), plus a lot more.
With no new Bilge Rat Adventures, Sea of Thieves has had a bit of a low-key start to 2019 - so hopefully we won't have too long to wait until all these wonderful goodies arrive.