Saints Row 4 announces How the Saints Save Christmas DLC
Ho ho ho motherf*****, I have a Christmas Dubstep Gun.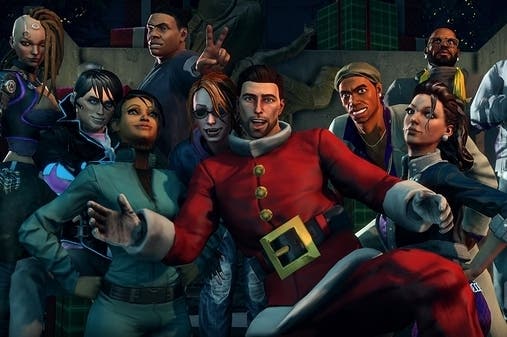 Saint Row 4 is set to kick off the holidays in style with its yule-tide themed DLC, How the Saints Save Christmas, due on 11th December for Xbox 360, PS3 and PC.
Free for Season Pass owners and $6.99 (about £5) for everyone else, How the Saints Save Christmas will contain three new story missions, two new vehicles (Flying Reindeer, Santa's Sleigh), and three new weapons (Red Rider BB Gun, Christmas Dubstep Gun, and the North Pole).
The add-on will follow the story of the curmudgeonly boss of the Saints not caring enough to save Santa who's trapped in the game's Matrix-like simulation. Naturally the buck falls to the gang to cheer up the president of the United States with the true meaning of Christmas.
Additionally, developer Volition is putting on a contest requesting participants to dress up and sing along to Jingle Bells by inserting their own Saints Row-themed lyrics. Winners will receive: a Gioteck EX-05 Headset, Razar DeathAdder ergonomic Mouse, a pair of Limited Edition Gloryfy G3 Saints Row unbreakable sunglasses, and the game's Official Bradygames Guide. The deadline for entries is 5th December.