Rocket League adds free Hockey Mode today
Now you can have a candy cane antenna, too.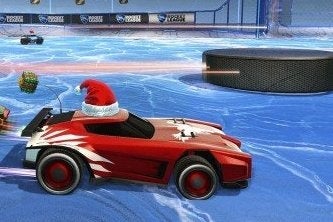 Are you feeling festive yet? How about a free ho-ho-ho-hockey mode for Rocket League?
Load up the footballing cars favourite today and you'll find a new ice hockey mode has been added. You play on ice, hitting a puck around instead of a ball. You can imagine the rest.
There's a garage full of new Christmas-themed items to collect as well - the Xmas Rocket Trail , Blitzen Topper , Christmas Tree Topper, Sad Sapling Topper, Santa Topper, Candy Cane Antenna and Holiday Gift Antenna.
These will drop randomly at the end of matches until 4th January.
Xbox One owners will be able to try their hand at Rocket League in February, meanwhile. Here's hoping it comes free with Games with Gold, just as PS4 owners got it free via PlayStation Plus.