It looks like Rocket League will kick off on Xbox One
UPDATE: Release date confirmed, Halo and Gears items shown off.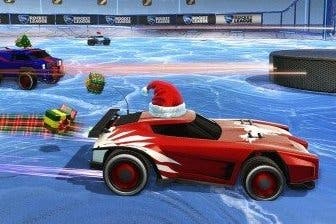 UPDATE 4/12/15 3.45am Rocket League has been confirmed for launch on Xbox One in February 2016.
The announcement was made this morning during The Game Awards, where footage of the game's Xbox One edition showed off Halo and Gears of War-themed livery.
ORIGINAL STORY 2/12/15 9.00am Footballing car frenzy Rocket League looks set to launch on Xbox One, after a rating was spotted on the Taiwanese games board website.
The listing has now been pulled (thanks, Lifelower).
Developer Psyonix has said it would bring the game - currently just available on PlayStation 4 and PC - to more platforms, but has yet to detail which or when this might happen.
It will also be interesting to see if other versions support cross-platform play. PS4 and Xbox One cross-play is not going to happen, but the potential for PC and Xbox One is there.
Rocket League shot to popularity over the summer after being given away free via PlayStation Plus.
An update adding match mutators, plus Back to the Future and Portal tie-ins have helped cement the game's success, and found a flourishing eSports scene.