PlayerUnknown reveals Battlegrounds Xbox One release date, and a major difference to PC
"Right now the two builds are on slightly different road maps."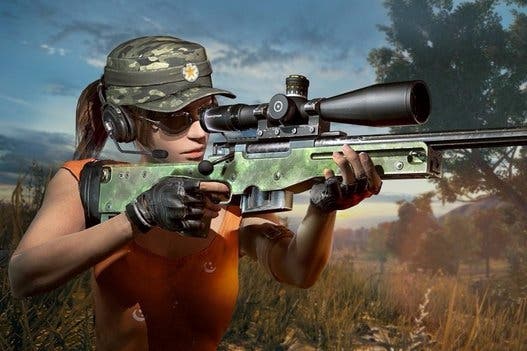 PlayerUnknown's Battlegrounds will launch for Xbox One via Xbox Game Preview on 12th December, Microsoft has announced. The game will play on Xbox One X with HDR enhancements, while 4K support is due to be added further down the road.
Today's announcement was made during Microsoft's presentation at Paris Games Week, where PlayerUnknown's Battlegrounds stars as a console launch exclusive on Xbox One.
Eurogamer caught up with the man himself, Brendan 'PlayerUnknown' Greene, and Battlegrounds' executive producer, Chang-Han Kim, to chat about the game's console launch, its battle royale genre copy cats and the differences between the Xbox One and PC versions.
---
Will there be any major content differences between the PC and Xbox versions? At least for a while?
Greene: While the Xbox Game Preview version will be launching with vaulting included, it won't have the desert map for a while yet. Mainly because we need to test it and fix it, it's still in early development and while we're showcasing it for PC it will still require months of work to really polish it off and find those niggly areas on the map. It's just the way it goes with open world development.
We aim to have the same experience across both platforms, while right now the two builds are on slightly different road maps. It's our goal at the end of the day to keep them aligned and keep the same experience across both platforms.
Does that mean the Xbox One version will be slightly behind for the moment?
Greene: Yeah, that's a good assumption. Slightly behind but we're following the same goal here, we want the same thing. Development road maps are just slightly varied at the moment.
Will the updates be as frequent on both platforms?
Greene: We want to keep a pretty regular update cadence for Xbox, the same as we did with the Steam Early Access version. That's why we're using Game Preview because we keep developing it with the players and get their feedback to see how the gameplay feels, how the weapons feel, so we wanted to regular the update as well on Xbox to reflect the changes we feel we need to make.
Any update on cross-play?
Greene: Not really. We still want to do it. As I said before we want to remain controller v controller or keyboard to mouse v keyboard to mouse. It's probably the fairest way to do it. We have no update on it.
Have you secured a price yet?
Greene: Yeah, it's the same price as PC $29.99 [£26.99].
Any collector or limited editions planned?
Greene: We have no updates on that right now.
Is the Xbox Preview feedback going to help you optimise the PC version?
Greene: Yeah, exactly. So this is one reason we decided to publish with Microsoft, as well, because they make both the platforms our game is running on. They're invaluable partners when it comes to, you know, especially with the Xbox optimisation as well, because we use Unreal which can be carried across to PC version and anything we find on PC can carry over to the Xbox version as well because we're using similar systems. This is one of the joys of working with Microsoft is that they can help us, you know, optimise both platforms and get it to the best Battle Royale we can.
Are you worried it will be hard to keep up the momentum when you leave Early Access?
Greene: Right now, we're kind of...not that we don't worry about player numbers, but it's really about...we're just focused on making a good game. That's what I've always believed with like Battle Royale as a mod. I was never worried about the fame, I was never worried about how many people liked the game, it was about making a good game. That's the same with Battlegrounds. We're focused on getting a good game out the door. We want it to continue, it's fantastic, but it's not what we're kind of worried about. We're worried about giving a great Battle Royale experience.
Is it still the intention to come out of Early Access on Steam by the end of the year?
Greene: Oh yeah.
So you'll be coming out of Early Access on Steam and into preview on Xbox at roughly the same time?
Greene: That's right. We've a lot to do over Christmas.
So the Desert Map won't be in the Xbox Game Preview version but vaulting will be?
Greene: Vaulting will be in the Xbox Game Preview launch version. The desert map will be available in the PC 1.0 version.
Do you have a rough idea when the desert map will be added to the Xbox version?
Greene: We have no ETA as to when it might be added to the Xbox version.
How long are you wanting to keep the game in Xbox Preview?
Greene: Until it's ready, I guess. In Early Access we initially said six months but we changed that because we wanted to get the game out when it was ready rather than trying to shoehorn it out the door. When the product is ready, it'll be delivered.
Fortnite kind of beat you to the punch with a console release, is there anything you learnt from its console release?
Greene: I mean, for me, Fortnite is an arcade game. A cartoonish version. I never really looked at it in any other way than it's another Battle Royale game. We've been focused on doing our own thing.
There's lots of Battle Royale games coming out at the minute, does it annoy you or flatter you?
Greene: I mean, like listen, I seen GTA Motor Wars come out and that's a massive compliment because I played GTA back on LAN with friends. Seeing stuff like that being inspired by your game mode is pretty humbling. I know that seeing all these other game modes is great and expands the Battle Royale genre. All I ever want is that people aren't lazy about just copying our content. With any new genre, the more interesting and new types of Battle Royale games that come out they rose the genre. If people are just copying each other they're not doing anything for the genre.
So as long as it's not a carbon copy?
Greene: Yeah, it's like put your own spin on it. Stuff like the plane at the start is something I concepted way back in Arma 2 and Arma 3, that I feel is unique to my Battle Royale. And there's other elements like our loot system that are unique to our Battle Royale. We never want to stop more games, we just want new and interesting games to copy us instead of a carbon copy.
Are all the servers and regions going live for Xbox on 12th December?
Greene: We'll only be opening the third-person for the start, first-person will come eventually but at launch just third-person.
Chang-Han Kim: To add onto that, our servers are PAL based so we can service between any region but because only 100 players can be matched inside a session, the experience will not be that good in regions that have a large amount of users. So we are expanding from the regions which have the most users.
Anything else you would like to add?
Greene: Briefly talk about the lack of updates on the PC version. We recently upgraded the engine internally from 414 to 416 and essentially, it didn't break the game, but there were a lot of issues with that game and rolling out that version to the live servers with millions of people was not the best thing to do. The current live version is quite stable at the moment, so we wanted to focus on the 1.0 build which we're focused on now.
It's just to get across the point we haven't stopped development, even coming through 1.0, that's not the end of it for us. We want to remain in almost permanent beta where we constantly upgrade and improve the game over the coming years. Just because we've fallen back on doing updates, it's because internally we haven't got the resources to focus on two builds and we need to focus on the 1.0 build. That's why we're doing three days of testing, vaulting starting this week on the test server, to really start polishing the 1.0 build.