Oculus ditches Go headset to focus on Quest
Half life.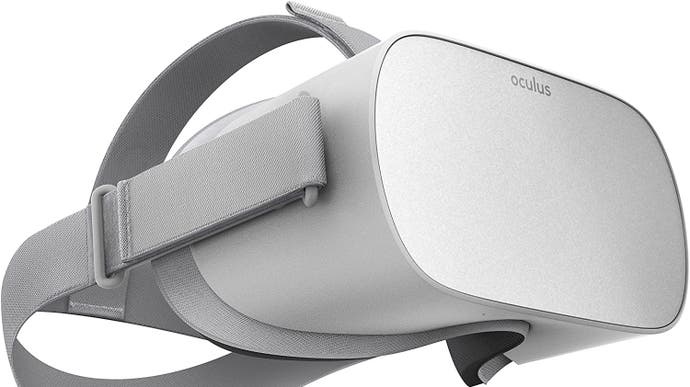 Oculus has discontinued Oculus Go to focus on the Quest virtual reality headset.
In a blog post, Oculus said it's ending sales of Oculus Go headsets this year to "double down on improving our offerings for Quest and Rift".
Oculus Go launched in May 2018 as a low-cost standalone VR headset designed to be as affordable and accessible as possible. But it has been superseded by the more successful Oculus Quest, a completely portable, all-in-one gaming system for casual gamers who want to play VR games but either don't want or can't afford a big gaming PC.
Quest launched in May 2019 with over 50 titles available on its store, and Oculus has some fairly strict rules as to what it will and won't allow on it. Quest games need to be quality, finished content (so no demos or early access titles), for example. Quest was in hot demand in the run up to the release of Valve's Half Life: Alyx - the most successful VR game so far.
"Just past the one-year anniversary of Quest, we're humbled by its continued success," Oculus said. "The community response has been overwhelmingly positive, and you've told us loud and clear that 6DOF feels like the future of VR. That's why we're going all-in, and we won't be shipping any more 3DOF VR products."
If you own an Oculus Go headset, you'll still be able to use it even after sales of Oculus Go end. Oculus said it will continue to maintain the system software with bug fixes and security patches until 2022. But it won't ship new features for Oculus Go, and it won't accept new Oculus Go apps or app updates into the Store after 4th December 2020.
Clearly, Oculus Quest is now the focus, and you can see why - Oculus said people have spent more than $100m on Quest content, and more than 10 titles have generated over $2m in revenue on Quest.
Oculus also announced that in early 2021, it will let developers share their apps to anyone with a Quest without having to be accepted into the Oculus Store, and without the need for sideloading - a move that should make Quest accessible to a wider group of developers.