Watch footage of cancelled Half-Life spin-off Ravenholm
Holy crab.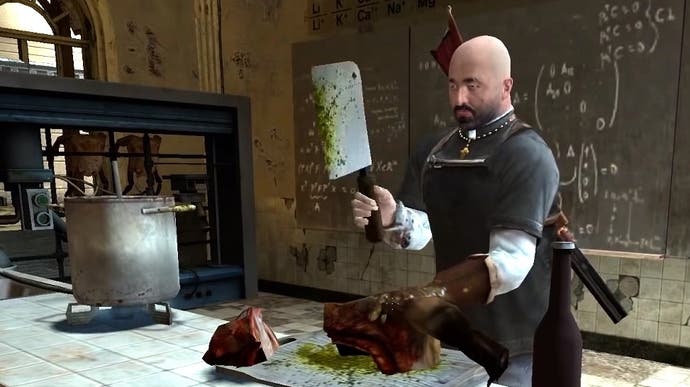 We'll never get to play Ravenholm, the cancelled Half-Life spin-off once in the works at Arkane Studios, but we can at least now see a little bit of it in action for ourselves.
The footage comes from The Untold History of Arkane, a fascinating feature length documentary from Noclip which speaks to several of those behind the project and shows extended sections of alpha gameplay.
Arkane, known for its more recent work on the Dishonored series and Prey, worked on the Ravenholm project as a standalone spin-off from Valve's Half-Life series.
It would have featured Adrian Shepard, protagonist of original Half-Life expansion, as he meets Half-Life 2 priest Father Grigori. A brilliant opening sequence shows an unhinged Grigori harvesting and cooking up headcrabs, apparently immune to their bites. Over the course of the game Grigori would have mutated, clearly not immune after all.
Gameplay would have included a magnet gun and, as shown in the footage, a nail gun capable of firing projectiles that could then conduct chains of electricity. This would have aided puzzle solving by let you connect up circuits, power on appliances and so on.
The whole documentary is worth a watch - there's detail there on two other cancelled Arkane games The Crossing and LMNO as well.
Or if you want to skip straight to Ravenholm, head to the 33-minute mark.