Nintendo fans can cheer themselves with an excellent Wii U, 3DS Humble Bundle
UPDATE: A trio of extra games added.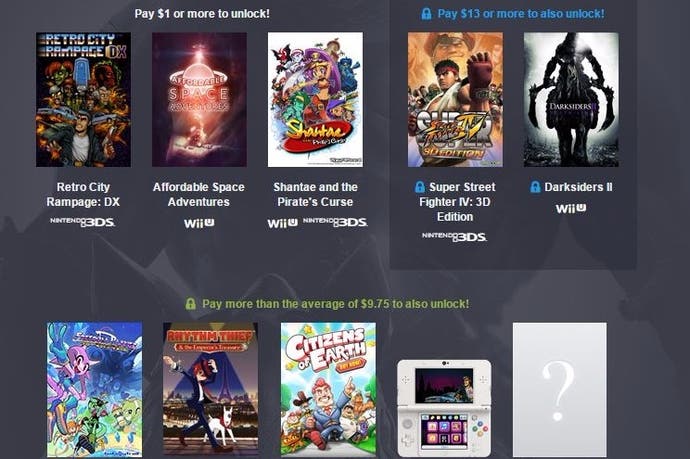 UPDATE 4/5/16: Three more games have been added to the already-generous Humble Friends of Nintendo Bundle.
Runbow and Swords & Soldiers 2 for Wii U plus Nano Assault EX for 3DS are now available if you have paid more than the current average price of $9.75. More than a million bundles have now been sold.
For that average price you'll get nine games and a 3DS theme, or if you pay a couple of dollars extra you'll also get Darksiders 2 for Wii U and Super Street Fighter 4: 3D Edition.
Less than a week now remains until the bundle offer ends.
ORIGINAL STORY 27/4/16: NX won't be at E3 and the new Zelda won't release until 2017. But, on the upside, you can now get a bunch of cheap 3DS and Wii U games right now via Humble Bundle.
Half a dozen indie games are included in the offer, alongside Super Street Fighter 4: 3D Edition for 3DS and Darksiders 2 for Wii U.
You can pay just $1 to get Retro City Rampage: DX on 3DS, Shantae and the Pirate's Curse on either 3DS or Wii U plus Affordable Space Adventures on Wii U. That really is affordable.
Pay more than the average of $9.75 and you'll get Freedom Planet for Wii U, Rhythm Thief & the Emperor's Treasure for 3DS plus Citizens of Earth for either 3DS or Wii U.
Super Street Fighter 4 and Darksiders 2 come into play if you pay $13 or more.
More games will be added to the bundle soon, and as always you can decide how much of your money will go to Nintendo or charity.