Danny Bilson: inside the rise and fall of THQ
The outspoken former chief of Saints Row, Homefront and Darksiders finally breaks his silence.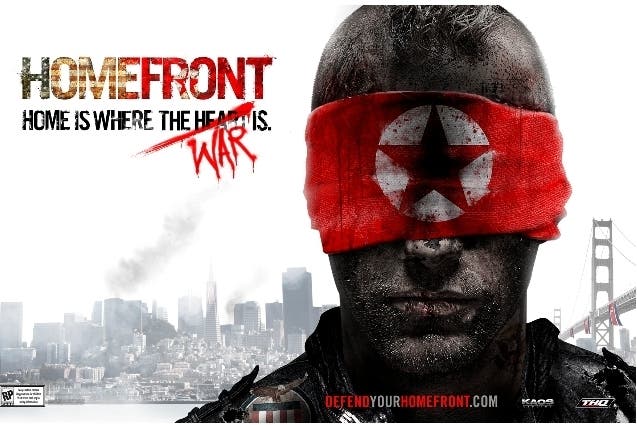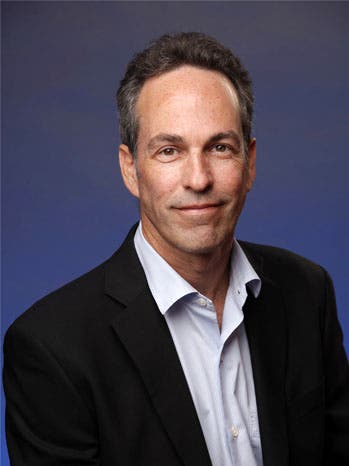 The week before Danny Bilson left THQ in May 2012, he still had hope. He had a plan: Darksiders 2 from Vigil. Metro: Last Light from 4AGames. Company of Heroes 2 from Relic Entertainment. Enter the Dominatrix, the standalone expansion for Saints Row the Third, from Volition. South Park: The Stick of Truth, in production at Obsidian Entertainment. Homefront 2 at Crytek UK. And then there was the unannounced stuff: the next-gen game from Turtle Rock we now know is called Evolve. Patrice Désilets' 1666 at THQ Montreal. The portfolio is long and impressive.
I remember interviewing Bilson at a London event set up to reveal "the plan" to press. It would save all aboard the sinking ship from drowning. Just a week later he was fired.
Jason Rubin, Naughty Dog co-founder best known for the Crash Bandicoot series, was drafted in as THQ president and assumed control over "the plan". The message was clear: Bilson had done a poor job and was out. In his place, a white knight who was going to save the company.
On 19th December 2012, eight months after Bilson had been fired, THQ filed for bankruptcy. It closed its doors soon after, selling off its beloved IP to the highest bidders. The white knight had failed to keep the sinking ship afloat.
"When I left there was no talk of going out of business," Bilson tells me inside the Sage in Gateshead, a couple of hours before his star turn at this week's GameHorizon conference. He's in town to deliver a talk on narrative design in video games and to announce his exciting plan to release a series of small scale narrative-driven games and movies that connect together - a bit like Telltale's The Walking Dead meets Defiance. Our interview marks the first time he's given his side of the THQ story, and I can tell it's going to be a fun ride.
...
"There was no talk of that whatsoever," he continues. "There was a lot of talk of living to fight another day. We had a plan my team and I believed in. My team was determined to fight through the year and carry on. So, whatever happened after I left, I absolutely have no idea, because I wasn't involved. I may get some hearsay here and there, but I also wasn't looking. I was regrouping and figuring out what I wanted to do next."
The writing was on THQ's wall as far back as December 2011, after the damage report of what former staff call "the uDraw disaster" had been filed. uDraw, a tablet peripheral that enjoyed some success on the Wii a year before it launched on PlayStation 3 and Xbox 360, came in a staggering $100 million below expectations, with an eye-watering 1.4 million units left unsold and collecting dust in some sorry warehouse half the world away. THQ had already made 30 staff redundant by the time it reported its crippling financial results. The cuts would continue.
"We had hope, okay," Bilson says, "But it was a very difficult time. I'm not going to lie. Starting in December, after the uDraw disaster, it became very difficult. We were looking for investment. We were looking for any angle to make it work. We also closed off more things. We did narrow our line-up down after December."
We had hope, okay, but it was a very difficult time. I'm not going to lie.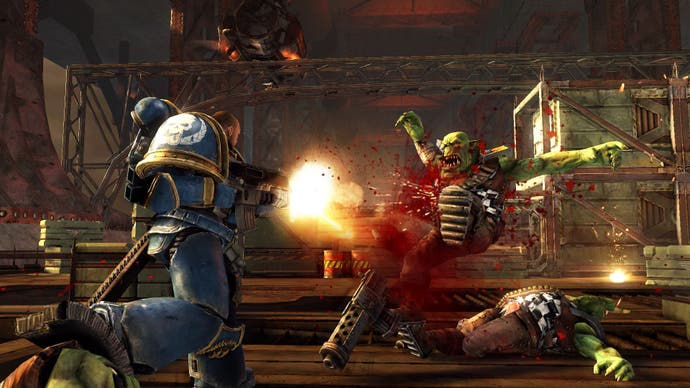 THQ's rapid post-December 2011 decline was punctuated by layoffs, studio closures and game cancellations. But in truth the cut backs had begun before then. The first, high-profile example was the painful closure of Homefront developer Kaos Studios just a couple of months after the release of the game. That year saw the launch of a number of disappointments - all on Bilson's watch. Space Marine, Relic's first foray into console action game territory, hadn't met exceptions. Neither had Red Faction: Armageddon, which led to the franchise's sorry retirement. MX vs. ATV Alive failed to start. Then, in March 2012, there was the cancelled development of the Warhammer 40k MMO, resulting in further layoffs. Amid the carnage Devil's Third, the action game from Ninja Gaiden creator Tomonobu Itagaki Bilson had signed up, fell by the wayside.
But it wasn't all doom and gloom. Saints Row The Third, Volition's barmy open world action game, sold to the tune of 5.5 million units in November 2011. It was a huge success. Indeed it remains the most successful IP launch in the history of the company. THQ also did good business from downloadable content off the back of the game, too.
"That was disappointing for my team because things were so tough financially that there was nothing to celebrate," Bilson says. "We were outbalanced by that other disaster. But gosh, I'm really proud of what Volition and what the marketing teams did on that game. I felt like, wow, we have an owned franchise we can build on. It was clear to me that you don't need many, and you were going to need less and less, but you need a few solid franchises you can run your company on. You don't need a tonne of big games. So, I was ready to double down on Saints Row and invest further as we were going forward."
Doubling down on Saints Row for Bilson meant the release of the standalone Enter the Dominatrix expansion, which he believed would contribute significantly to THQ's bottom line, and a separate, expansive Saints Row 4. But Rubin canned the expansion's Autumn 2012 release, rolling its development into what is now Deep Silver's Saints Row 4, due out later this year.
"When I looked at the Enter The Dominatrix expansion in production at Volition, I was blown away by the ideas and desire to expand the fiction of the franchise," Rubin said at the time. "I asked the team what it could achieve given more time, more resources, and a broader scope for the project. We all agreed we wanted to play that game.
"When it comes to Saints Row, it's clear our fans want bigger, better, and even more over the top, and that's why Enter The Dominatrix will now be incorporated into a vastly expanded, full-fledged sequel, scheduled for calendar 2013."
Bilson, of course, would have stuck with his original plan had he not been let go. "Other leadership came in and they made different choices and did different things," he says. "But I'm not aware of exactly what they did and I don't really even know them." Without the release of a Saints Row in late 2012, and with fresh delays to Metro: Last Light, Company of Heroes 2 and South Park: The Stick of Truth, THQ, quite simply, ran out of time and money.
...
Bilson's departure from THQ was announced as a footnote to Rubin's arrival, almost as incidental information, without explanation. He left to "pursue other interests", THQ said at the time, which in corporate speak means he was surplus to requirements. I've always been puzzled by this, given his high-profile role at the company and his reputation as a game executive who spoke his mind - even when it got him in trouble with his bosses.
So, why were you fired, Danny?
"It's purely numbers," he replies after five seconds' thought. "When a company is not succeeding changes are made. Straight up. Whether my group was working or not or it was another group, it's just how the world works. And changes are made. There was no particular reason. It was just, we're going to make a change. I accept that. And we move on and we do other things. It happens all the time.
"I worked as hard as I could for four and a half years to change that company and turn it around, and we ran out of time.
"I'm really really proud of the work I did at THQ and the work my team did.
"Remember, about six weeks after I got there all the numbers changed and we had to start closing studios. So, my entire ride was a downsizing ride. What I told my boss when I left, and I still feel this way, was I'm very proud of the portfolio that my team built under duress. We were always downsizing. We were always laying people off. We were always killing games and closing studios. And we managed to start and build new original IP. A lot of it hasn't come out yet but it will and was picked up. And I still want to play those games and I'm looking forward to them."
...
In January 2013, after THQ had gone bust, Jason Rubin gave an interview to MCV in which he discussed what went wrong.
Unfortunately, the mistakes that were made long before I joined, like the incredible losses attached to uDraw, massive wasted capital in the unpublished MMO that was cancelled, sticking with children's and casual titles far after mobile and tablets had killed the business, bad, late, or otherwise inferior titles like Homefront, and a generally haphazard and inefficient approach to deal making, left the company with too much negative hanging on its books.

Former THQ president Jason Rubin
"I think it is incorrect to attribute THQ's predicament with overall changes in the industry," he said.
"To be sure, all triple-A publishers have been under pressure, but THQ had every chance to survive had it not made massive mistakes.
"Unfortunately, the mistakes that were made long before I joined, like the incredible losses attached to uDraw, massive wasted capital in the unpublished MMO that was cancelled, sticking with children's and casual titles far after mobile and tablets had killed the business, bad, late, or otherwise inferior titles like Homefront, and a generally haphazard and inefficient approach to deal making, left the company with too much negative hanging on its books."
The comments struck me as a thinly-veiled snipe at Bilson and the work he had done at the company. uDraw, of course, wasn't Bilson's patch, although sections of the media have mistakenly claimed the entire debacle was his fault. But the "unpublished MMO that was cancelled", aka Dark Millennium, certainly was. And then there's mention of "bad, late, or otherwise inferior titles like Homefront" - Bilson's baby.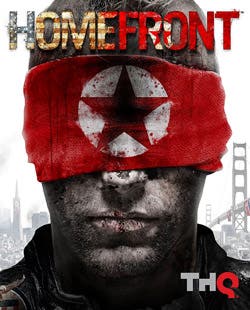 Much has already been said about Homefront. It was Bilson's big bet, his stab at the big time. With Homefront he was taking on Activision's Call of Duty series - the gargantuan benchmark for all things FPS. But it didn't work out as well as he - or those who made the game - had hoped.
Polygon's report, Death March: The Long, Tortured Journey of Homefront, is a wonderful insider account of the development of the game. In it unnamed former staff describe Bilson as an "arrogant, ignorant meddler who parachuted into Kaos almost at random, overturned whatever the team was working on, then vanished for long periods of time". Elsewhere, he is referenced as a "clueless Hollywood-type who didn't know much about games". This perception is something Bilson has fought throughout his career in games, he says, as the guy who wrote The Rocketeer and worked for Paramount before getting into the games business after a chance meeting with then EA chief Don Mattrick. And then, of course, there's that tweet, made after visiting the team during the height of their exhausting, soul-destroying crunch period: "At Kaos studios in New York sitting with a team that's finaling on 7-day weeks for a couple of months," he wrote. "Talk about that 'thousand yard stare'."
Rubin's point is that Homefront contributed to THQ's downfall, but Bilson rejects this claim. "That game didn't lose money," he says. "So I don't know how it could contribute to the downfall. That game sold three million units. It wasn't a financial disaster. Was it disappointing? Oh yes. It was very disappointing..."
He continues: "The way I felt about it all along was they had fantastic creative in that game, and we weren't able to execute to the level we needed to be to be highly competitive in that genre. Period. But there was a lot of great inspiration. There was a lot of passion.
"Production difficulties are common. Running a studio in Manhattan was really expensive, because you had to bring talent there and pay them high rates. There were really good people in that studio. Some really nice people. It was a very difficult project.
"Perhaps they bit off more than they could chew, because they weren't told to make that game. That was the game they wanted to make and we said yeah, that seems awesome. Let's do it. The genesis of that team had done one of the all-time cool things in the game business: Desert Combat, the mod for Battlefield 1942. So there were some really talented people there. Then they had made Frontlines. And it seemed like, wow, now they've got this awesome idea. They're iterating on the same tech. They've been through it once.
"But ultimately, the studio needed more veteran talent than we had, and I couldn't see that at the time. I didn't live there. I wasn't in there, but I supported the heck out of that game and supported the heck out of that team.
"Of course I was disappointed with the results, but still there were 40 reviews over 80. 40 reviews over 80! It has some really wonderful things in it, but it was not executed cleanly across the board. There were network code problems that really hurt the launch of the multiplayer - and that multiplayer was a really fun design - and the single-player was too short, and there were art issues. There were all kinds of little things. And in that genre you can't miss a beat because you're competing against the best.
"It was personally really disappointing because I had so much hope for it. But I don't believe that game contributed to the downfall of the company in any way. It wasn't a financial disaster. And we were sequelling it because we believed in the creative so much. And we also learned a lot. We thought with more appropriate tech, a different team and the Crytek brand, we could give it another shot. And we were."
I quote Rubin's MCV comments to Bilson, and he becomes animated.
"...and a generally haphazard and inefficient approach to deal making..."
"Deals he's referring to? I don't know what he's talking about. Remember, I didn't run the licensed game business. I was running original IP. There were deals he may be talking about that I wasn't supportive of either."
You mean you weren't supportive of uDraw?
"Internally I wasn't, no. I would never say anything externally at the time. Internally, I felt that you can't launch hardware without a killer app. I said that routinely. I didn't believe it would work on next-gen. But that was a different group and those were their decisions and it was up to them.
"I liked it originally as an accessory or a support tool for Drawn to Life, if we were going to build on that franchise. That's how it was originally presented to me and I thought that was a pretty cool idea. But after that it wasn't in my purview."
Back to Rubin: "...left the company with too much negative hanging on its books."
"I don't know. What I know about, and what I knew about - this is the truth - is I was given a budget for core every fiscal year to run marketing and production, and my team managed that budget vigorously. And we were asked to cut it and cut it and cut it. We were always cutting. All the time I was there we were always cutting and cutting and cutting. And we always did our best to make the most of the money we were given.
"Remember, I wasn't president of the company like he [Jason Rubin] was. And I wasn't dealing with those things he was dealing with. So he saw things I only learned about by reading about them later. I didn't know all of that.
"I started to know a lot more in December 2011, when the roof caved in. That's when I became aware of the debt and things like that. It wasn't talked about with me a lot. My budget was what was talked about. The cost of a game. The normal stuff in production and marketing spend. We talked about that a lot. But the company's finances? Didn't talk about that a lot. I didn't. So he, in his role as president, he was engaged in things I wasn't."
Did I make mistakes along the way? Of course. Everybody does in these roles. But we didn't have any cushion. We really didn't have any cushion.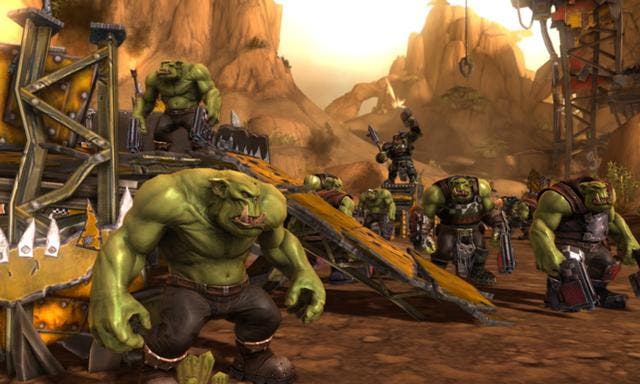 And then there's the MMO. I mention it and Bilson's eyes spark with the same excitement Warhammer 40k fans had when it was announced. That much is clear. But the spark is tempered by a hint of sadness, sadness at the cost to the company, sadness at the game's cancellation and sadness that it will never be released.
"That MMO was in development when I got there," Bilson says, referencing his 2008 arrival at THQ. "I didn't greenlight it. It had been already going for a year. It went on for years, and over those years - it started with a really small team - it came to about $30 million in by the time we realised that we - and this is December 2011 - one, can't afford to finish it, and two, Star Wars came out and the subscription market and the MMO market was changing rapidly.
"We weren't foolish. We did have a free-to-play plan for it all along. We didn't know if a subscription was even going to work when I was there. So we had some options. But by the time December came along, that was one of the first things that had to go because it was just very expensive to finish it, because you have to compete with some really big stuff."
The spark returns. "The quality was excellent. Excellent! I'm a big MMO player and I loved what they were doing with that game. It was beautiful and it was innovative and challenging and epic and all those things MMOs are."
But did Dark Millennium's cancellation contribute to THQ's collapse, as Rubin suggests?
"If you look at that $30 million, I can point to so many places," Bilson counters. "That was one mistake of many that every company makes. But there were all of the studios that were bought and then shut, all of the games that were bought and were closed. There were things all along. I didn't want to write off anything ever. And maybe to a fault.
"One thing I was guilty of was: I wanted to save everything. I didn't want to throw money or work away."
In March 2012 THQ announced it had "refocussed" the troubled MMO to become an "immersive single-player and online multiplayer experience". This after the rumours that it had been cancelled before THQ revealed it was looking for a business partner to help carry through its original vision for the title. As a result of the downsizing a number of development staff were laid off - 79 full-time employees at Vigil Games and 39 employees at Relic Entertainment.
"There was a plan in my last days at THQ to reconfigure what was built into a smaller game," Bilson explains, "but that was rejected by management at that time.
"But sure that was a failure, because it didn't ship. Of course. Did I make mistakes along the way? Of course. Everybody does in these roles. But we didn't have any cushion. We really didn't have any cushion."
...
Why did THQ die? There are many theories. Some point to high-profile and expensive core video game failures, as Rubin does, such as Red Faction, Darksiders, Homefront and the Warhammer 40K MMO. Others point to the great uDraw disaster, again, as Rubin does. There can be no doubt that all these games played a part in the company's demise.
I don't think there was anybody I didn't like or respect. There were a lot of people trying really hard to turn it around. And I'm really sad it wasn't turned around. Really sad.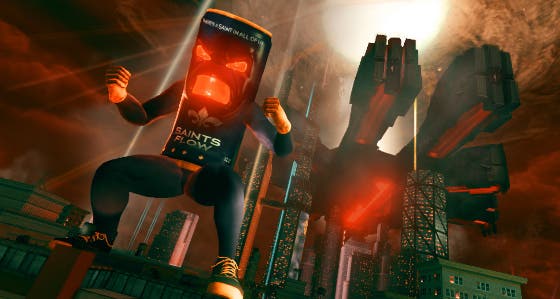 Bilson, as you'd expect, has a theory or two of his own. He believes THQ failed to capitalise on the digital video game landscape quickly enough. While it had done well out of Saints Row: The Third DLC, its digital atempts had, on the whole, fallen short. But THQ's biggest mistake, Bilson says, is that it failed to successfully transform from being a large publisher built on the success of licensed games such as WWE into a smaller publisher built on the success of a few high quality core-focused games.
"Our team was working tirelessly to change the company," he insists. "Ultimately, I don't know what happened after I left, but they ran out of time and money. It was unfortunate and very sad. And I have to say I worked with fantastic people at THQ. Really fantastic people all over the world. I don't think there was anybody I didn't like or respect. There were a lot of people trying really hard to turn it around. And I'm really sad it wasn't turned around. Really sad."
Any regrets?
"Even though we went from 17 studios to four while I was there - this is going to sound nutty - but I still think we were doing too much. That's hindsight though. Look, we were a public company and we had targets we were trying to hit. So you put stuff in the portfolio to add up in the models to hitting these revenue numbers.
"It was just too successful of a company early on to suddenly flip it to something much smaller with much smaller numbers. Probably that's what we should have done and kept money in the bank. Even when we were having our stumbles and failures of getting to digital, just keep persevering there instead of backing off."
Bilson stops for a few seconds, before concluding. "You know what? I only have one regret: it didn't work. It wasn't successful and it went out of business. That's my regret. Specifics? I don't know. We were all making the best decisions we thought at the time. We weren't foolish people. We were responsible managers."
...
The THQ IP auction laid bare its core games portfolio. Company of Heroes went to Sega. Saints Row went to Deep Silver. South Park and 1666 went to Ubisoft. Evolve (which Bilson is particularly excited about) went to Take-Two. Homefront 2 went to Crytek. Darksiders and Red Faction went to Nordic Games. I reported on the money that changed hands and thought of the figures as Metacritic review score averages for the good work Bilson and the development teams he managed had done during his four-and-a-half years at the publisher.
As for the studios Bilson admits he had a sometimes fractured relationship with, most have found new homes. The only one of the four that were running at the time of THQ's collapse not to be bought was Vigil, although Crytek snapped up around 30 of the core members to form Crytek USA.
"Fortunately most of them are still in business and are still making games," Bilson says. "I'm happy for them and happy those games are going to see the light of day. I hope they're successful. Not all of them will be. And they won't all be as great as the original vision. And some might be better than the original vision. But they're out there and they're going to ship and people are going to play them, and that was the whole point."
That was the whole point.