Capture Saddam Hussein
In new game from Kuma.
Kuma Reality Games has released a new instalment in its "interactive documentary series" on Saddam Hussein, which gives you the opportunity to join the US Army's 4th Infantry Division as they go on the hunt for the man himself.
The Capture of Saddam: Operation Red Dawn is the latest in a series of episodes which have included such, ah, classics as Uday and Qusay's Last Stand, Iran Hostage Rescue and John Kerry's Silver Star.
It lets you "Explore the vast outdoor farm region or get up close and personal inside the squalid two-room hut where Saddam hid out while living life on the run," apparently.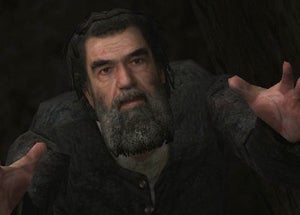 "Experience the genuine sights and sounds of Adwar on the hunt to capture Saddam and his accomplices and relive one of the most historic moments in history, as you stand before Saddam Hussein in his final hour of freedom."
According to one sergeant from the HHC 1/64 Armor 3rd Infantry Division, it's even better than the real thing: "This game actually makes me flash back and think about the war and the aftermath... But that's not necessarily bad.
"Being that I will be going back to Iraq for a 3rd tour, I'll say that it's much better fighting from my PC behind a desk then actually slinging lead at each other," the sergeant said.
You can download the new episode, if it makes you happy, from Kumawar.com.
Rumours that a Trials of Saddam game is being developed using the Phoenix Wright: Ace Attorney engine are completely made up.