New ratings logos green-lit for UK
How they'll look on the box.
In the wake of confirmation that PEGI will be the sole system for rating games in the UK, the body has unveiled the final design of its new logos.
All games released in the UK will feature one of five age classifications - 3, 7, 12, 16 and 18 - with 3 and 7 shaded green, 12 and 16 amber and 18 red. A new 'traffic light' system was originally proposed last year, after recommendations made by that nice lady off the telly Dr. Tanya Byron.
Though circular in the original proposal, the final logo designs are square, which is believed to be due to the BBFC - yesterday unceremoniously relinquished of its games ratings duties - objecting to similarities with its own widely-recognised logos.
Meanwhile, PEGI's (frankly still-confusing) black and white doodles of clenched fists, speech bubbles and the like are to be retained to provide consumers with extra info on content.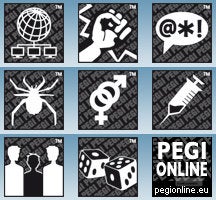 It's not clear exactly when the new logos will adorn games packaging, but ELSPA boss Michael Rawlinson said everyone would be pulling double shifts down t'pit to ensure "smooth and rapid transition".
As a result of yesterday's decision, jobs losses are expected within the BBFC. A source told Eurogamer that this was expected to number "up to 10".