New Legend of Zelda: Breath of the Wild footage
From Wii U, but still - wow.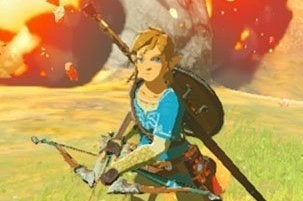 Nintendo has yet to unveil its big NX announcement (less than one hour to go, folks) but it has kept us happy with some new Legend of Zelda: Breath of the Wild footage.
The launch of the game's new official Japanese site has brought us a fresh look at the game's beautiful open world, complete with some dramatic dynamic weather effects.
Each of the videos were recently uploaded to Nintendo Japan's official YouTube for display on the site, which labels them as being from the game's Wii U version.
If anything, it looks even more technically accomplished than when we played it extensively back at E3 and deemed Breath of the Wild as the most ambitious Nintendo game in years.
Over more than four hours with the game we discovered bug catching, sailing, rock climbing and set lots of things on fire.
Now, how will it look on NX?