Minecraft Dungeons is launching in April next year
Coming to Xbox One, PS4, Switch, and PC.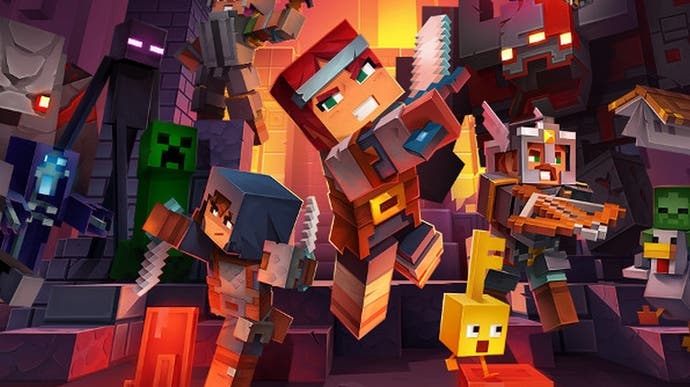 Minecraft Dungeons, developer Mojang's somewhat unexpected but entirely appealing Minecraft dungeon-crawler spin-off, is one step closer to receiving a full release date. Microsoft has now revealed that it'll be coming to Xbox One, PC, Switch, and PS4 in April next year.
Set, unsurprisingly, in the Minecraft universe, Dungeons delivers procedurally generated bouts of co-operative monster slaying and treasure hunting for up to four players. But while it might have a friendly Minecraft face, featuring familiar mobs and the series' unmistakable art style, it's still a fully realised take on the genre, with ample loot to gather, a range of combat styles to master - including melee to ranged - as well as deadly traps and creatures to overcome.
According to Dungeons' non-release-date-revealing release date trailer below, those that sign-up via Mojang's website will be in with a chance of playing the game first. Nowhere is that elaborated on, but it sounds like some sort of beta might be planned ahead of launch.
Eurogamer's Tom Phillips was quite taken with Minecraft Dungeons at this year's Gamescom, and it seems to be shaping up to be an enjoyable, if rather left-field, use of the Minecraft brand.
We'll know if Mojang's latest effort - which apparently started life as a 3DS game - is a successful new direction when it comes to Xbox One, PC, Xbox Game Pass, PS4, and Switch next April.