Microsoft "investigating" reports Battlefield 4 DLC unavailable on Xbox One
EA "aware" of the issue.
EA and Microsoft are probing reports that Battlefield 4's Second Assault DLC is unavailable for Xbox One users who have bought Battlefield Premium.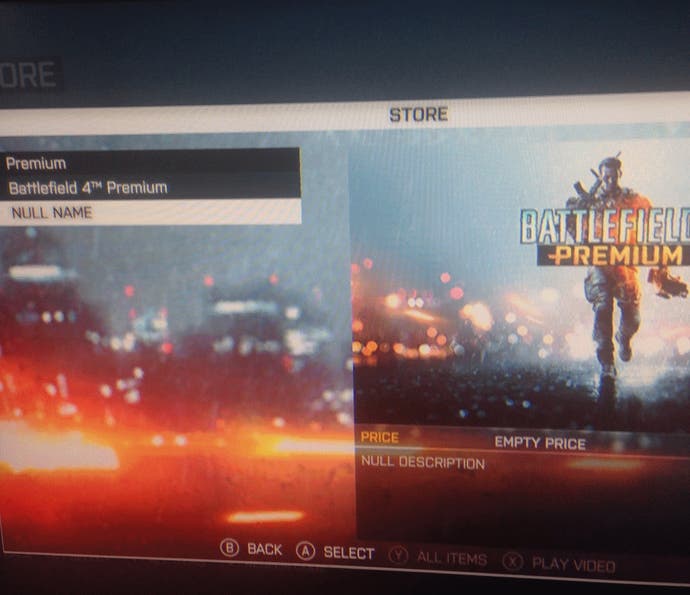 The add-on is exclusive for 11 days on Microsoft's platform and is free for anyone who holds a Premium subscription. It includes tweaked versions of four popular maps from Battlefield 3.
Logging on to the in-game Premium store lists the pack as "NULL DATA". Its description is listed as "null description", and its price - which should be free - is listed as "empty". It can't be selected or downloaded.
Angry Battlefield 4 owners have filled a thread on the game's official forums with their experiences attempting to get the issue acknowledged and solved through EA and DICE's official channels.
Some were told the issue could not be resolved until next week - after the DLC's exclusivity period is up and it is released for other platforms.
An EA spokesperson has now responded to the issue and said the company is looking into fixing the matter with Microsoft.
"I know some of you have said already that it is being looked into, I wanted to just confirm that for you so you guys have a blue [staff] post to refer to," EA_Rick wrote. "Right now all I can say is that we are aware of this issue and are currently investigating this with Microsoft. Once we have some more details I'll be sure to let you know."
We've asked EA for more information on the error and will update when we hear more.