DICE has made two more Battlefield expansions free until next week
BF1's Turning Tides and BF4's Second Assault.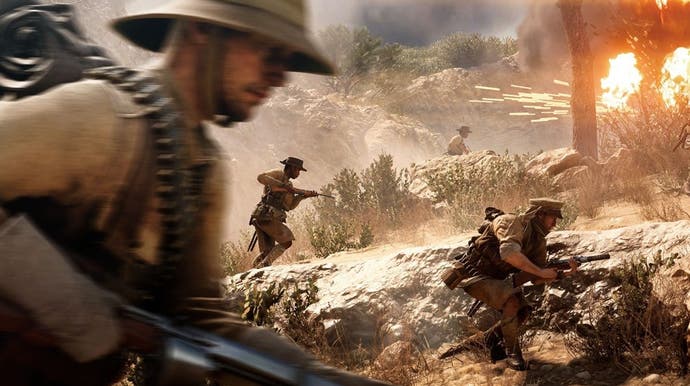 DICE is currently giving away two Battlefield expansions - Battlefield 1's Turning Tides and Battlefield 4's Second Assault - as part of its ongoing Road to Battlefield 5 campaign. Both are free on all platforms until July 17th.
Turning Tides is focussed on the 1915 British amphibious assault of the Gallipoli peninsula, and features new weapons, new vehicles, and four new maps: Cape Helles, Achi Baba, Heligoland Bight, and Zeebrugge. Second Assault, meanwhile, is described by DICE as a "love letter to the classic maps of Battlefield 3, redesigned with the power of the Frostbite 3 game engine". It includes five new weapons, a dune buggy, ten assignments, and a Capture the Flag mode.
Both expansions can be downloaded for free until next Tuesday, July 17th, on all supported platforms via their respective online stores - that's the Microsoft Store for Xbox One, the PlayStation Store for PS4, and Origin for PC. Helpful links can be found in DICE's blog post.
Previously, as part of its Road to Battlefield 5 campaign, DICE gave away Battlefield 1's In the Name of the Tsar expansion, and the developer says that Apocalypse, which adds five more multiplayer maps, will get the freebie treatment before the end of the month. DICE also notes that players "may still get" another chance to claim any expansions they missed "in the future".
Battlefield 5 releases on Xbox One, PlayStation 4, and PC on October 19th.