Microsoft Flight Simulator set to receive massive performance boost in next PC update
Arriving alongside Xbox Series X/S release.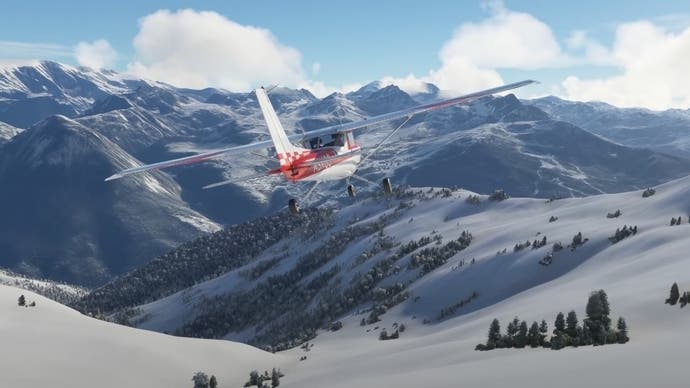 Microsoft Flight Simulator is gorgeous but notoriously demanding of PC hardware; however, developer Asobo says it'll be getting a whole lot less demanding when its next Sim Update arrives alongside the game's highly anticipated Xbox Series X/S release on 27th July.
Asobo offered a look the huge performance improvements coming to Microsoft Flight Simulator on PC during its latest developer livestream, with CEO Sebastian Wloch explaining the team has rewritten "a lot of the parts of the engine...in order to get the maximum performance out of the sim", as part of its work on the upcoming console version.
To illustrate just how effective Asobo's engine tweaks have been, Wloch demoed a before-and-after gameplay video featuring a flyover of Manhattan, captured from a PC equipped with an i7-9700K CPU and Nvidia 2060 Super graphics card - and running Flight Simulator at Ultra settings in 4K with a 40% render scale (jump to the 8-minute mark below to see the footage).
Flight Simulator's photogrammetry cities are some of the most hardware intensive areas in the game, and Wloch's PC set-up managed to hit an extremely stuttery 30-40fps while flying over Manhattan in the currently released build. However, footage of the upcoming build shows the same PC hitting a stutter-free 50-60fps in exactly the same flyover scenario.
Wloch notes that in the original footage, his PC's CPU is operating at 100% while his GPU flits between 50-75%. However, post-engine-optimisation and re-architecturing, that's reversed, with the CPU now running at 75% and the GPU at 100%. Additionally, system memory usage falls from 27GB to 14GB (while the memory demands of the sim itself fall from 16GB to 4.7GB).
It's an impressive demonstration, but performance improvements aren't the only benefits PC players will see as a result of Asobo's work on Flight Simulator for Xbox Series X/S. The developer previously confirmed the PC release will also gain new and improved tutorials, more Discovery Flight options, and a host of new flight assist features when Sim Update 5 and the Xbox Series X/S version launch on 27th July.