Halo Infinite's Pelican arrives in Microsoft Flight Simulator today
Plus, see helicopters in action.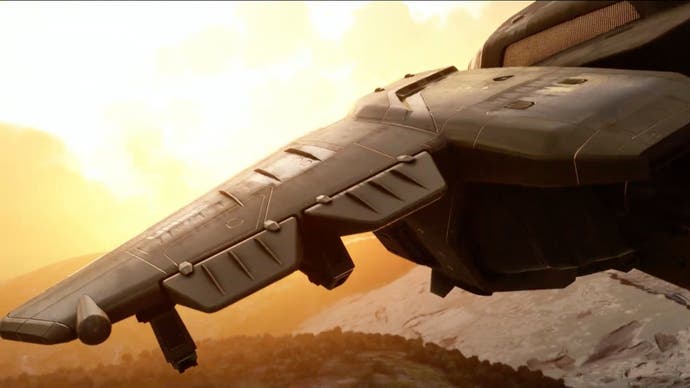 Asobo's ceaseless expansion of the wonderful Microsoft Flight Simulator continues onward, with tonight's Xbox Showcase revealing some of the new additions arriving before the end of the year - including a significant 40th anniversary update scheduled for November, and, rather unexpectedly, Halo Infinite's Pelican, which launches as a free update today.
Microsoft hasn't revealed how the Pelican will fit into the overall Flight Simulator experience just yet, but you can get a glimpse of the ship in the trailer below. It's a different story for the free 40th Anniversary Edition update, however, which has been detailed in significantly more detail.
Described as a "comprehensive celebration of the franchise", it promises to pay tribute to the series' past as well as introduce new aircraft types. The latter additions include the long-awaited arrival of helicopters and gliders, brought to life with a new Fluid Dynamics Simulation.
Here's everything confirmed for the 40th Anniversary Edition, which arrives as a free update for owners of Microsoft Flight Simulator, and for those playing via Game Pass, this November:
Historical Aircraft
Wright Flyer
Ryan NYP ("Spirit of St. Louis")
Douglas DC-3
De Havilland Canada DHC-2-Beaver
Helicopters
Bell-407
Guimbal Cabri G2
Gliders
DG Flugzeugbau LG8-18
DG Flugzeugbau DG1001E neo
True-to-Life Airliner