Marvel's Avengers creative director moves back to Naughty Dog
Lost legacy.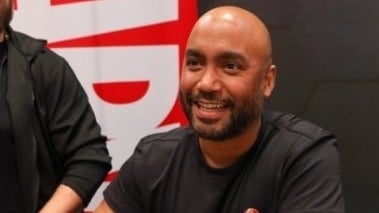 Shaun Escayg, creative director for Marvel's Avengers, has left developer Crystal Dynamics and rejoined Naughty Dog.
Before his stint on Avengers, Escayg served as director for Uncharted spin-off Lost Legacy, after working on both Uncharted 4 and The Last of Us. Once upon a time, he also served as co-director of the legendary 50 Cent: Blood on the Sand.
Naughty Dog welcomed Escayg back into the fold last night via a post on Twitter. "Happy to be back with the Dogs!", Escayg wrote.
A recent report pegged Naughty Dog as working on a The Last of Us remake while another team within the studio is working on a multiplayer game with Days Gone developer Sony Bend - presumably the long-awaited online experience once part of The Last of Us 2.
Early plans for a new Uncharted game at Sony Bend were recently scrapped, that report continued, with the fate of that project now unclear. A Eurogamer source suggested that had been intended as something of a reboot for the franchise, with one idea being for a prequel.
Back in 2017, I interviewed Escayg on the potential future of Uncharted series in exploring the stories of other fan-favourite characters.
As for Marvel's Avengers, Square Enix has issued a roadmap for future modes coming to the game - though the arrival of Black Panther, its next character, is not expected until a vague "Summer and beyond" launch window. The game's PlayStation-exclusive Spider-Man content also lacks a release date, and has now been officially delayed.