Mario Tennis Aces update nerfs Bowser Jr. following complaints
Justice is served.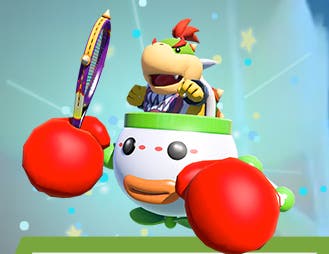 Wimbledon may be over, but it seems there is still plenty of tennis court drama to be found. Since the release of Mario Tennis Aces in June, players have been calling for one of the characters - the naughty yet surprisingly powerful Bowser Jr., to be nerfed to balance the game. From the new update notes, it seems their campaign has been successful.
Fans had initially complained Bowser Jr. seemed to have no obvious weaknesses, with incredible reach and the ability to "trickshot on reaction" (just take a look at the Twitter video below for evidence). The game imbalance was severe enough players began to deliberately quit online matches to avoid facing the troublesome turtle. Indeed, the community even began to agree it was socially acceptable to drop out of Bowser Jr. games.
The latest update post reveals Nintendo has responded to these complaints, as the notes show it has altered the character's abilities. For starters, Nintendo has "adjusted how fast Bowser Jr. can move when charging a shot," but also "lowered the angle at which he hits the ball back." There may be further changes in the near future, as Nintendo promised to adjust the character again "in time for the August tournament." I guess poor Bowser Jr. won't be able to catch a break this summer.
Update 1.1.2 will roll out tomorrow, and although the character has been adjusted, it remains to be seen whether this will be sufficient to balance the game. Is this the end of Bowser Jr.'s reign of terror?