Pauline, Luma, and Boom Boom join Mario Tennis Aces' playable roster early next year
Shy Guy and Petey Piranha due in December.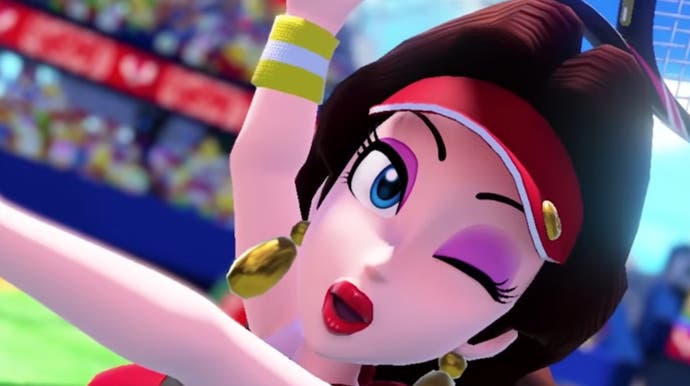 Splatoon 2's free post-launch content support might be winding down next month, but Mario Tennis Aces on Switch is still going strong. Nintendo has now confirmed that it'll be adding three new playable characters to the game's steadily expanding roster, starting in January.
As Mario characters go, Nintendo's upcoming selections aren't exactly what you might call A-listers, but they're welcome additions all the same - and it's nice to see some lesser-utilised faces getting their moment in the spotlight, instead of having to endure a repeat of Mario Kart 8's Pink Gold Peach nonsense all over again.
According to Nintendo, Mario Tennis Aces' next characters will be Luma - frequent companion to everybody's favourite space-princess Rosalina, and "Technique" player type - as well as occasional Mario mini-boss Boom Boom, who slots into the "Defensive" player category. Pauline (best known as the mayor of New Donk City in Super Mario Odyssey these days) rounds out the trio, and is listed as a "Speedy" character. All three make their grand entrance below.
Pauline, Luma, and Boom Boom will be joining Mario Tennis Aces in the first quarter of 2019 - so any time from January through March, although no specific release dates have yet been given. However, there are now release dates for two previously announced additions to Tennis Aces' character line-up: Shy Guy and Petey Piranha.
Both characters will be arriving in-game on December 1st, and you'll be able to snag them by joining an online tournament before January 1st. Nintendo says that Petey will be available through Singles Tournaments, while Shy Guy requires participation in a Doubles Tournament. You can see them both in action below.
If previous Aces additions are anything to go by, Shy Guy and Petey Piranha should be unlocked for everyone after January 1st - meaning an online subscription isn't required to procure them, only patience. Nintendo hasn't yet discussed how it plans to deliver Pauline, Luma, and Boom Boom, but more details should be forthcoming soon.