Kojima clarifies decision to make MGS5 character "more erotic"
He actually meant more "sexy".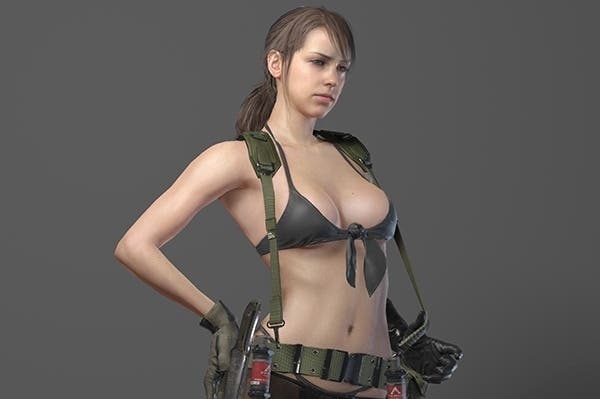 Metal Gear Solid creator Hideo Kojima has commented on a series of messages posted to his Twitter account this week where he described asking for a female MGS5 character to be made "more erotic".
Speaking yesterday at the unveiling of Kojima Productions' new Los Angeles studio, Kojima clarified that the word "erotic" had been somewhat lost in translation - a better description would have been "sexy".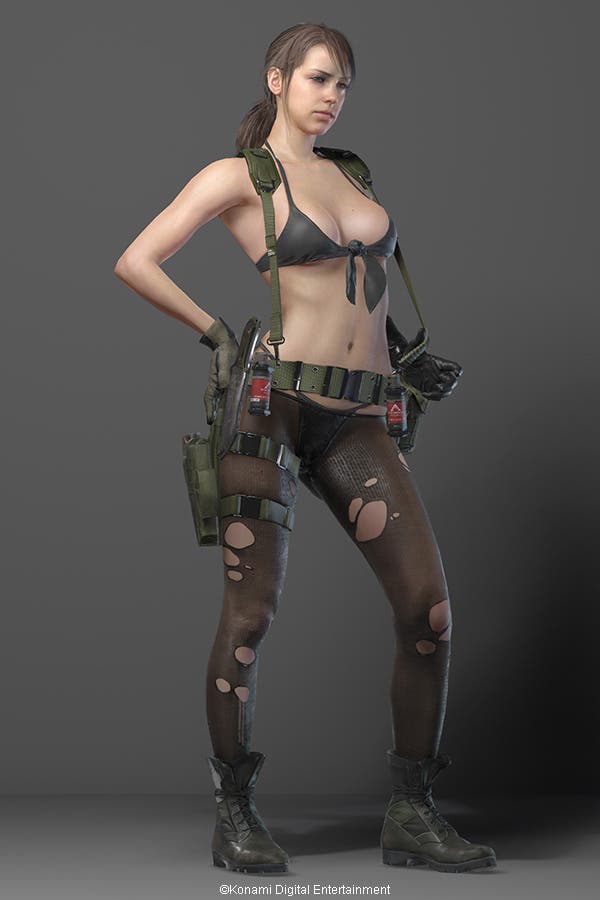 "Maybe the phrase 'erotic' wasn't really [the correct word for] what I was trying to say," Kojima said (thanks, Polygon). "What I'm really trying to do is create unique characters."
The character in question is bikini-and-stockings clad sniper Quiet, previously shown during the game's E3 trailer. "I wanted to add that sexiness to her. It wasn't really supposed to be erotic, but sexy," he explained.
"You're going to notice [when you play] there's limited dialogue with the [Metal Gear Solid 5], and for that reason we really want to show the characteristic from each character," Kojima concluded. "Sexy could be for guys, weapons, vehicles, it's really that characteristic."
Kojima's earlier comments on the matter raised eyebrows when he said he had wanted Quiet made "more erotic" so fans "want to do cosplay" and also to get "its figurine to sell well".
"I've been ordering to Yoji [Shinkawa, MGS5 designer] make the character more erotic, and he did it well," Kojima wrote. "Recently I've been making characters this way."
But Kojima added that this was all part of making stand-out, memorable characters. "I create the setting thoroughly, how he/she spent early life," he explained. "Name, style, favorite phrase, fashion, action to stand the character out."
Kojima then promised a detailed CG model of the character would be released to aid any cosplayers heading to Tokyo Games Show.
"The character I asked Yoji to make it more erotic, this one may not be cosplayable," Kojima warned. "Dear cosplayer friends, something like this for example," he added, including a close-up picture of Quiet's barely-covered buttocks. Quiet's full CG scans were posted last night, one of which is shown above.
Quiet's voice and mo-cap artist, Dutch model Stefanie Joosten, has also weighed in on the issue.
"Of course, I was surprised to see Quiet's outfit at first," Joosten said. "But, you know, it fits in the Metal Gear universe, I think. I don't think I'm allowed to say a lot about this, but, well, Mr. Kojima has his reasons for deciding why Quiet [is] wearing what she's wearing.
"Players will just have to look forward to that."
Kojima's new Los Angeles studio is now open and it's helping to make Metal Gear Solid 5.
There's a lot going on in Metal Gear Solid land at the moment. Kojima is working on Metal Gear Solid 5: The Phantom Pain and its prologue, Metal Gear Solid: Ground Zeroes.
Kojima, who works out of Kojima Productions' Tokyo headquarters, will "provide guidance and inspiration" to the employees of the LA studio.
"As gaming takes the world stage as one of the greatest forms of entertainment, it's only natural for us to expand our operations across the globe," he said.
"And since Los Angeles is ground zero for the best studios, facilities and world-class talent, we are leaning on of these local resources to build an incredible team to create gaming experiences that are just as compelling as any film or television show."