Jelly Deals: Indie Mega Week Sale on at Humble
Cuphead! Hellblade! Undertale! More!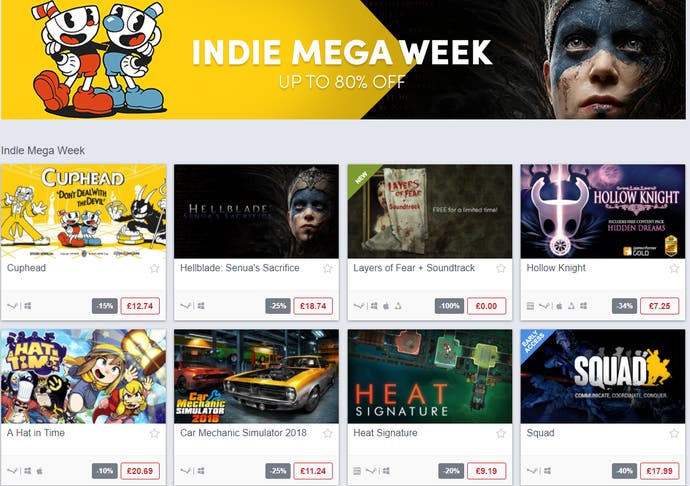 A note from the editor: Jelly Deals is a deals site launched by our parent company, Gamer Network, with a mission to find the best bargains out there. Look out for the Jelly Deals roundup of reduced-price games and kit every Saturday on Eurogamer.
---
As it has a tendency to do most days, Humble is hosting a wealth of discounts on some of the finest indie games available for PC this week.
The Indie Mega Week sale features 'up to 80% off' some of the previous year's highlights, as well as some older gems. In amongst the rabble, you'll find Cuphead with 15% off, Hellblade with 25% off, Heat Signature with 20% off, Undertale at half price and more.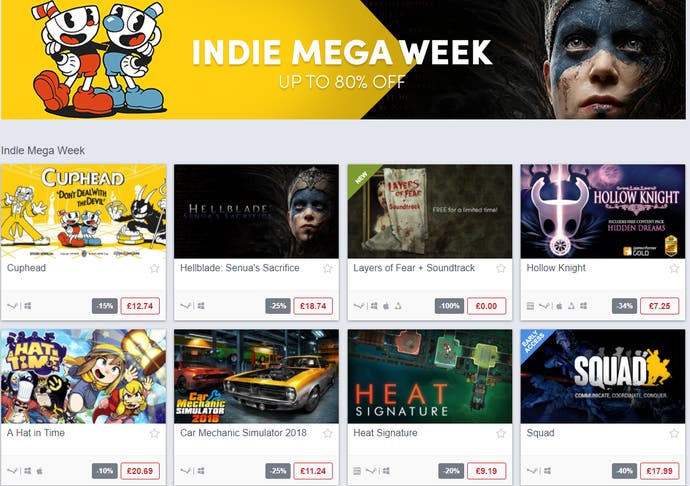 At the time of writing, you can also grab a free copy of Layers of Fear along with the game's soundtrack. That's 100% off if you're not keeping track.
Here are some highlights:
Stardew Valley for £7.25 / $9.89
Slime Rancher for £10.04 / $13.39
Undertale for £3.74 / $4.99
Heat Signature for £9.19 / $11.99
A Hat in Time for £20.69 / $26.99
Hellblade: Senua's Sacrifice for £18.74 / $22.49
Cuphead for £12.74 / $16.99
Hollow Knight for £7.25 / $9.89
No Man's Sky for £15.99 / $23.99
Gang Beasts for £11.99 / $15.99
The Witness for £14.99 / $19.99
Crypt of the NecroDancer for £2.19 / $2.99
Owlboy for £11.39 / $14.99
Axiom Verge for £7.49 / $9.99
Hyper Light Drifter for £7.49 / $9.99
Duck Game for £3.99 / $5.19
Indie Mega Week Sale from Humble Store
In addition to that, you can still pick up this month's Humble Monthly for £10 / $12, which will get you access to Dawn of War 3, Quantum Break and The Long Dark along with a stack of other Steam keys once the month is over.
If you'd like to grab a last minute gift, we've got our own Christmas gifts for gamers guide as well, with some last minute ideas.